Haryana:- Startup meeting on Jan Seva Survey (JSS) under the Chairmanship of Honorable CM Haryana through Video Conference
Deepak Sawant, Haryana
sawant[dot]deepak[at]nic[dot]in
|
Jun 30, 2017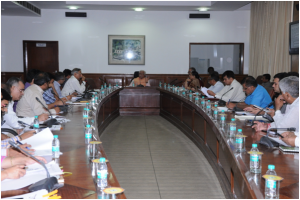 The Government of Haryana has decided to create a single source of resident data through a unified State Resident Database (SRDB), where the Aadhaar based eKYC enabled survey should be conducted by using Android Tabs – 'The Jan Seva Survey' (JSS). This would be an extensive exercise involving about 15,000 enumerators in the field to complete the task.
In this regard, a startup meeting was held over NICNET VC setup on 29th July 2017 at 5.00PM under the chairmanship of Hon'ble Chief Minister of Haryana. The meeting was attended by Chief Secretary, Stakeholder Administrative Secretaries, All Divisional Commissioners & Deputy Commissioners, SIO NIC Haryana, AGM APTS and MD HKCL.
 The following were the agenda points discussed during the meeting:
Preparedness of Electronics & IT Department, GoH and respective Administrative Secretaries.
Preparedness of the Health Department w.r.t. the Health Insurance Scheme to cover all the residents of the State as objective of JSS.
Preparedness of the districts w.r.t. the conduct of JSS in the State.
Issuing notification under the section 3 of Aadhar act and uploading of revised application form for providing services to citizens with mandatory Aadhar filed incorporated.
Way forwarded or suggested recommendations.
During the meeting, special inputs were submitted by Sh. Davinder Singh, PSIT, GoH and Sh Deepak Bansal, SIO NIC Haryana.
Haryana Jan Seva Survey is a massive survey of all households, aimed to capture the required socio-economic data directly in digital form, with online validations. The field surveyors can enter the data by accessing the relevant portal through a connected tablet so that the data validations happen online and the scope for mistakes is minimized and the consolidation and analysis of data can be completed within few weeks of the completion of field survey.
JSS would be one of its kind survey, where ICT infrastructure would be utilized extensively and NIC Haryana is a major stakeholder in respect of technical consultation &  solution provider. All DIOs & ADIOS would involve in JSS under the expert guidance of SIO NIC Haryana.
Surely, this would help to transform India into a digitally empowered society and knowledge economy