Seminar on Open data and Accessibility Policy at Utkal University, Vanivihar, Bhubaneswar, Odisha
A. K. Hota, Odisha
ak[dot]hota[at]nic[dot]in
|
Jun 20, 2014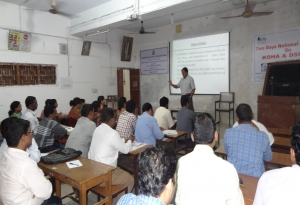 With the increase in awareness on "National Data sharing and accessibility policy", developers, researchers, Educationists etc. are interested to know more about the policy and the process to access the open data. To facilitate the same, a seminar was organized at Utkal University, Vanivihar, Bhubaneswar on the theme "Open Data and Accessibility Policy".
Experts from the field of Library & Information Science, Management studies etc. from Xavier Institute of Management, Bhubaneswar (XIMB), Odisha State Archives, etc. participated along with Research Scholars of various departments of the university.
Addressing on the occasion Dr. A. K. Hota, Sr. Technical Director, NIC State Centre, Odisha provided detail input on Open data. He encouraged participants to explore enormous opportunity to use the data for research studies, to develop various Apps across different domains, participate in number of challenges being floated time to time for awards etc.
Participants appreciated the initiatives taken by NIC and wished that Govt. of Odisha will come forward to accept the policy and start contributing the datasets.