THE OILSEED DOCTOR & PULSE DOCTOR MAKE CHHATTISGARH FARMERS MIGHTIER
Y.V.Shreenivas Rao, Chattisgarh
yvsrao[at]nic[dot]in
|
Jul 25, 2018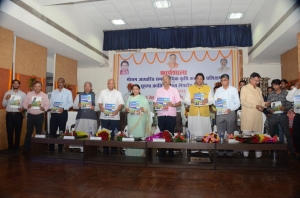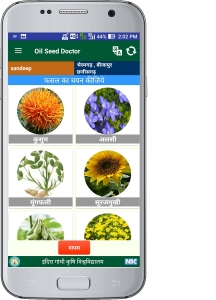 In a grand function held in Indira Gandhi Krishi Vishwavidyalaya (IGKV) Raipur, Chhattisgarh Android based Mobile Apps named Oilseed Doctor and Pulse Doctor were launched by Hon'ble Smt Krishna Raj, State Agriculture Minister, Govt. of India, on the 5th July 2018 in the presence of Shri Brij Mohan Agrawal, Agriculture Minister, Govt. of Chhattisgarh, Shri Ramesh Bais, Member of Parliament, Shri S. K. Patil, Vice-Chancellor of the University and other dignitaries. Also present were Shri D. K. Debnath, SIO Chhattisgarh, Shri Surendra Agrawal, Scientist "D" and  Shri Abhijeet Kaushik, Scientist "B".
The objective of the App is to provide information and solution to farmers on crop disease, insect and nutrient deficiency. Mobile app stores data within app to provide information even in offline mode. Image based search, bilingual interface, and grievances lodging are the important feature of App. For any problem, there is a query and feedback mechanism which will help farmers as and when required.
 The farmer has to register first and then selection of the crop is done for using the system. The farmers also have facility to provide to information on crop disease, nutrient deficiency, insects through feedback option. Information about availability of how to avoid disease and what to do in case of problem appears is also provided.