Digital Delivery of Fertilizer Distribution & Tracking application for MARKFED, Odisha
A. K. Hota, Odisha
ak[dot]hota[at]nic[dot]in
|
Jun 26, 2018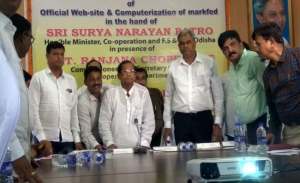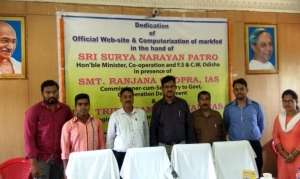 The MARKFED, Odisha website (http://164.100.140.92/markfed) was Inaugurated by Sri Surya Narayan Patro (Hon'ble Minister, Co-Operation and F.S & C.W Odisha) on 20th June 2018 at MARKFED Conference Hall in the presence of Dr. Tribikram Pradhan (Registrar of Co-operative Society), Sri Hemant Nayak (President of State Co-operative Union, Odisha), Sri Bibhudutta Pradhan (President MARKFED, Odisha), Dr. Pratap kumar Mishra (Managing Director, Odisha), Sri S.A Khan (STD & ASIO,NIC,BBSR), Sri Ashok Kumar Mohanty (Sr. Technical Director, NIC,BBSR), Dr. K.C Panda (Technical Director), Newspaper Agencies, Media and others officials of NIC and  MARKFED .
With the consent of Hon'ble Minister, Sri Ashok Kumar Mohanty, STD, NIC gave the demonstration of MARKFED application. While demonstrating he gave a brief description of the software with following features:-      
Indent:- The fertilizer application provides the online indent of fertilizer by Go-down Manager/ Area Manager to seven fertilizer companies. The application auto generates a unique indent number for every indent placed.
Stock Receipt:- When the stock arrives at Godown location, details of the transaction are recorded using the stock receipt module with Real-time updation. Necessary reports are generated immediately.
Sale Transaction:- Consist of two types of sales- Credit (letter of credit), Cash(Draft, Cash, NEFT/RTGS). Can be sold to – 2083 PACS/LAMPS, 509 retailers,107 Govt. Agencies. Stock is immediately updated.
Warehousing:- The web application provides the facility to rent out MARKFED Godowns to fertilizer companies. Cost and stock is automatically calculated.
Diversion:- The application provides the facility to move fertilizer stock between two Godowns of MARKFED. Stock is debited from the sending Godown and credited at the receiving Godown.
Reports:- Various reports like Delivery Challan, Cash Memo, Money Receipt, Indent Report, Tax invoice, queries and MIS are generated as per the requirement of department officials and higher authorities.
After the presentation Hon'ble Minister Sri Surya Narayan Patro praised the design, simplicity and transparency of monitoring and distribution of fertilizers to PACS/LAMPS, Retailers and Govt. agencies. He also appreciated the team effort of NIC team and suggested the Managing Director of MARKFED to assign the rest of the MARKFED activities to NIC, Odsiha for integrating with the application and website.
Hon'ble Minister Surya Narayan Patro inaugurated the fertilizer application by placing the first ever indent for Bhanjanagar Godown of Ganjam area office of MARKFED. While inaugurating the web application Hon'ble Minister appreciated efforts made by the NIC team for timely delivery of MARKFED website.
The Inaugural function was concluded with a vote of thanks and a short speech by Dr. Pratap Kumar Mishra (MD, Markfed, Odisha). During his speech he had highly appreciated the efforts made by NIC Officials to bring this project into timely delivery and success.
This MARKFED software has been developed with the team consisting of Sri A. K. Mohanty, STD & Dr. K. C. Panda, TD under the guidance, supervision and support of Smt. Pratibha Singh, STD & SIO NIC, Odisha.