Honourable Chief Minister of Haryana launched 181 Antyodya Schemes on the occasion of Inauguration of Seven Antyodaya Bhawans in Haryana on 14/04/2018
Deepak Sawant, Haryana
sawant[dot]deepak[at]nic[dot]in
|
Apr 30, 2018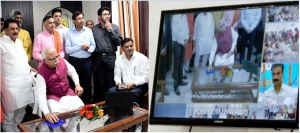 Aligning with vision of Hon'ble CM to ensure smooth and trouble free delivery of schemes to the Antyodaya (Rise of the last person)  population, NIC Haryana, using ServicePlus framework,  developed  181 schemes of 14 departments online along with backend process flow  for delivery through designated   Antyodaya Bhawan located in the different part of  Haryana.  This would ensure that benefits are actually reached to the concerned in a timely manner. The delivery of benefit to the citizens is  trackable online and the same will be ensured by the corresponding departments.
These schemes have been classified into 8 broad domains Farmers, Women, Students, Unemployed, Labour, Health, Social Security and Financial Assistance. These schemes will be displayed through boards and banners in Antyodaya Bhawans so that citizens can become aware about the  schemes for which they are eligible .
On reaching Anyodya Helpdesk  with the help of the operator the eligibility of the citizen  for schemes will be ascertained  by asking  a few details. If the citizen decides to apply for a particular scheme, she/he will need to take a token from the helpdesk and proceed to the scheme delivery area "Antyodaya Sewa Kendra". After completion of the application, the citizen will have the facility to track the status of application at a later date. Service charge per scheme is Rs. 10/. Antyodaya Bhawans to act as single stop center for the marginalized sections of the society.