Hon'ble Chief Minister, Himachal Pradesh Launches DARPAN CM Dashboard
Ajay Singh Chahal, Himachal Pradesh
ajay[dot]chahal[at]nic[dot]in
|
Apr 7, 2018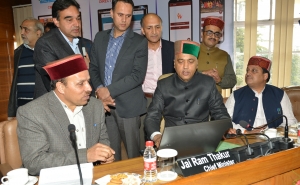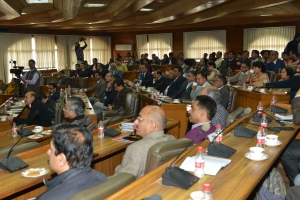 Sh. Jai Ram Thakur, Hon'ble Chief Minister Himachal Pradesh launched the DARPAN-Chief Minister Dashboard, on 3rd April 2018 at Shimla in a program organized jointly by the Department of IT, HP Government and NIC to launch 3 ICT initiatives.
The Hon'ble Ministers of Information Technology, Agriculture, Rural Development & Panchayati Raj, Cooperation, Dr. Ram Lal Markanda, Sh. Virender Kanwar, Dr. Rajiv Saizal were present on the occasion. Many Administrative Secretaries and all Heads of Departments, NIC HP officers, Department of IT, GoHP officers were present. Sh. Jagdish Chander, Principal Secretary (Information Technology) Government of Himachal Pradesh welcomed the Hon'ble Ministers and Officers of the Government and briefed them about the CM Dashboard, DBT schemes and Aanganwadi Mobile Apps.
The Hon'ble Chief Minister, in his speech, emphasized upon the remaining Departments to automate their back-end processes so that these are integrated in online mode with the CM Dashboard for better and effective monitoring of development works, grievances, announcements etc. He said that the usage of ICT in the Governance process is a must and that all Departments must ensure maximum usage of technology in their work processes.
The CM Dashboard will also enable the Administrative Secretaries, Divisional Commissioners and Deputy Commissioners to better monitor the CM Dashboard KPIs in the field for smooth implementation of these.
A movie prepared by NIC Himachal Pradesh, highlighting the salient features of the CM Dashboard of about 3 minutes was run during the inaugural program. Presently, 18 Projects of the State Government are integrated in online mode with CM Dashboard and about 21 other Departments are entering their KPIs directly in the software. Almost all NIC HP officers contributed in making this effort possible by integrating their domain specific services with the CM Dashboard in a very short time.
The initiative has been coordinated by Sh. Shailender Kaushal, TD with active support from Sh. Lalit Kapoor, Sh. Sandeep Sood, Sh. Vijay Kumar Gupta, Sh. Sanjay Kumar, Sh. Sanjay Sharma, Sh. Sarvjeet Kumar, Sh. Akhilesh Bharti, Sh. Ashish Sharma, Sh. Parveen Kumar, Sh. Mukesh, Sh. C.L. Kashyap among others. The NIC UP State Team took care of the back-end activities related to the CM Dashboard configuration.