Hon'ble PM launches Nivesh Mitra, Uttar Pradesh
Anshu Rohatgi, Uttar Pradesh
anshu[dot]rohatgi[at]nic[dot]in
|
Mar 13, 2018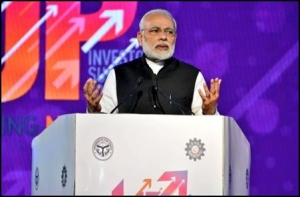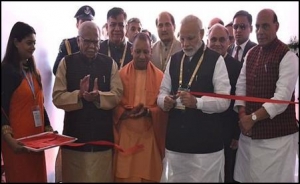 During the inaugural session of UP investors summit on 21st February 2018 at Lucknow, Hon'ble Prime Minister Shri Narendra Modi launched the 'NIVESH MITRA' portal developed by NIC, Uttar Pradesh. Nivesh Mitra is a digital platform for clearance of projects through a single window system. With this, Uttar Pradesh has become the first state to come up with such initiative for the entrepreneurs who want to invest and set up industries in the State. It is integrated with 20 departments and facilitates 70 online services to the entrepreneurs.
The vision underlining the initiative is to strengthen the partnership between GoUP and investors by providing the relevant information on click of a button and supporting the entrepreneurs in obtaining all the statutory clearances and approvals at a single point. It also seeks to redress the concerns and grievances of the business community by providing a common platform to all stake-holders (Departments, District Officials and Industrial Associations) for sorting out issues and hurdles within the fastest possible time-frame thus resulting in transformation of the State into the most sought after industrial hub across the Globe.
The Nivesh Mitra portal (http://niveshmitra.up.nic.in/) has developed by the Uttar Pradesh Unit of National Informatics Centre (NIC) with the active participation of Udyog Bandhu. It allows investors to apply online for project clearances with no human interface or intervention.  All activities have to be performed in a time-bound manner and are monitored at the highest levels, including the CM Office. The portal generates a unique reference number of the proposal automatically after an application has been submitted for various approvals consequent to registration of entrepreneur on the website. The complete tracking of the application is dome through this reference number.
The certificates and documents submitted are assessed by the respective departments which, if all is in order, have to clear the file digitally within stipulated time saving a lot of time and money required for travelling and submitting proposals for clearance.