Haryana:- DIO Sirsa commended by State Minister of Labour & Employment during International Geeta Jayanti Mahotsav 2017 at Sirsa
Deepak Sawant, Haryana
sawant[dot]deepak[at]nic[dot]in
|
Dec 7, 2017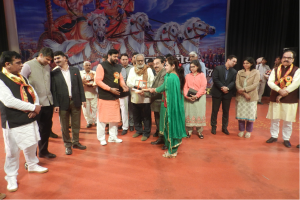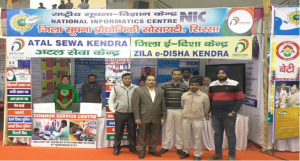 International Geeta Jayanti Mahotsav 2017 was celebrated in Ch. Devi Lal University, Sirsa (Haryana) w.e.f. 28.11.2017 to 30.11.2017. Sh. Naib Singh Saini, State Minister of Labour & Employment Haryana, Dr. Vijay Kumar Kayat, Vice Chancellor CDLU and Dr. Munish Nagpal, Addl. Deputy Commissioner Sirsa were Chief Guests.
The ICT Activities of National Informatics Centre were displayed in the stall established by NIC Sirsa during the occasion. The details of Transport and Revenue Projects of NIC were exhibited alongwith step by step workflow for  Learner Driving Licence, Permanent Driving Licence, Dealer Point Registration and guidance for preparing Learner Licence Stall Test. The details about delivery of Citizen Services through Common Service Centres established at approx. 280 Villages in the District were also conveyed.
The visitors were told about various G2C Services operational through VAHAN, SARATHI, STALL, HARIS, HALRIS, eDistrict / eDisha etc. through  eDisha Centres established at District, Subdivision and Tehsil Level which were well appreciated by distinguished personalities and visitors.
NIC also arranged display of video files related to Saraswati River and Shlokas of Shrimad Bhagwat Geeta with their meanings through LED Television in the Exhibition.