Hon CM of Maharashtra inaugurated the Website and GIS Portal of Slum Rehabiliation Authority of Maharashtra on 21 November2017
Moiz Hussain, Maharashtra
hussain[at]nic[dot]in
|
Nov 22, 2017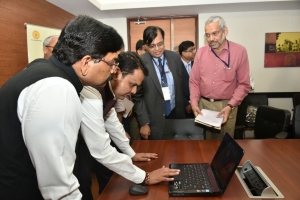 The website (http://sra.gov.in) and GIS Portal of Slum Rehabilitation Authority of Maharashtra (http://umd.nic.in/sra) developed with the technical support of NIC was inaugurated on 21 November 2017 at CM Secretariat Mumbai by Hon. Chief Minister of Maharashtra in the presence of State Housing Minister, Additional Chief Secretary Housing, CEO of SRA, DDG NIC HQ, SIO NIC Maharashtra and other officers of NIC State and NIC HQ. The website disseminates information about various Slum Rehabilitation Projects of Maharashtra and enables online interaction of the citizens with SRA office.
Geographical Information System (GIS) portal provides more than ten layers of data consisting of administrative ward boundaries, village boundaries, Slum Cluster boundaries, SR Schemes boundaries and terrain map services. This GIS Portal is developed with the support of Utility Mapping Division of NIC, New Delhi.
Hon Chief Minister has appreciated the work done by the officers of SRA, Housing Department, NIC HQ and SIO Mahrashtra and his team for making this project successful.