Workshop on e-Procurement and e-District
Chaitali, Tripura
chaitali[dot]b[at]nic[dot]in
|
Sep 1, 2017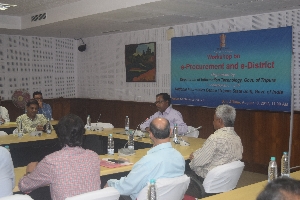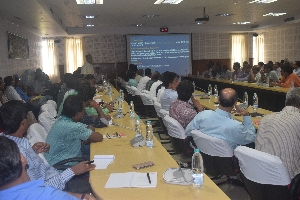 One day workshop on GePNIC e-procurement and e-District was organized by the Directorate of Information Technology, Government of Tripura in collaboration with National Informatics Centre Tripura on August 19th, 2017.
The workshop was inaugurated by Shri M Nagaraju, Principal Secretary Finance & Information Technology in the presence of the Secretaries of other departments and State Informatics Officer, NIC Tripura. The workshop was targetted to bring in awareness among various state government departments to adopt  e-Procurement and comply to the recent notification of the Tender threshhold value of Rs. 3 Lakhs (for Goods & Services) and 25 Lakhs for Works/ EPC. 
e-Procurement was introduced in the state in the year 2013. 14 departments are on-board as on date and a total  of   458 tenders, valued at Rs. 1675 cr has been executed on the system. Demonstration of the Tripura eProcurment Portal https://tripuratenders.gov.in was followed by threadbare discussions on the affect of GST in DNIT & Evaluation, AOC completion and tendency of the departments to zero value tenders.
e-District MMP has been launched in the state during March 2015 with a target to deliver end-to-end, a minimum of 21 services (G2C, G2G & G2B), and till date a total of 20 services have been launched. A total of around 2,94,195 requests have been serviced till date through the portal https://edistricttripura.gov.in, built on NIC's Service-Plus framework. End-to-end service delivery was demonstrated followed by discussion on e-GRAS integration and identification of new services of value.
The assembled secretaries appreciated NICs contribution in implementation of the stated projects.