Divisional Digi Dhan Mela held at Srinagar, J&K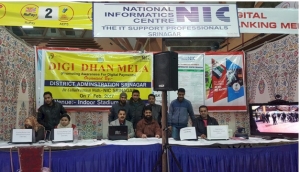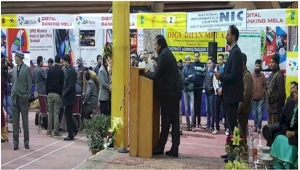 Divisional level Digidhan Mela was held today at Indoor Stadium Srinagar on 7th Feb 2017. The Divisional Commissioner Kashmir, Deputy Commissioner Srinagar and other dignitaries were present on the occasion. DIO NIC Srinagar in his welcome address emphasized the need of digitization in the country for easy transfer of money and also shed light on various modes of electronic transactions. Deputy Commissioner Srinagar in his address added that digitization will pave way for a new revolution in which paper currency will be replaced by digital transactions, thus proving beneficial to curb black money. In his concluding address Divisional Commissioner Kashmir said that Jan-Dhan, Aadhaar & Smart phones will be merged for boosting the economy of the country and for easy transfer of money. He also added that menace of shadow economy will be curbed by the adoption of digitization in the country.
At the event huge public participation was seen thronging different stalls put up by various departments and Telecom companies. In the last Divisional Commissioner Kashmir thanked to NIC Srinagar for the efforts and for providing valuable support in organizing Digi Dhan Mela.
Submitted By:
Jit Raj, Jammu And Kashmir
|
jit [dot] raj [at] nic [dot] in
Search Online News