Haryana: First village monitoring software launched at Kurukshetra
Poonam Gupta, Haryana
poonam[dot]g[at]nic[dot]in
|
Apr 2, 2013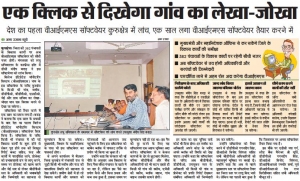 Kurukshetra has become the first district to launch the Village Integrated Monitoring Software (VIMS) to bring transparency to development works being undertaken at the village level.
On this event, Sh. Mandip Singh Brar, Deputy Commissioner informed that details of all undertaken works, funds utilization and other things, from beginning to completion, would be available instantaneously to this site.
VIMS has been developed by NIC Kurukshetra. This software is designed with the motive to attain the objective of better execution of development projects in the villages, in uniform manner and as per the specifications set by the government. It will play a significant role in timely evaluation of how and when funds were utilized after being directly transferred to the accounts of the panchayats.
The key role is to enhance professionalism among the gram panchayats and the line departments attached, so that proper system of check and balance is developed.
To keep updated, reports ready / instantly from Minor Level to Micro Level i.e. Panchayat to District level using various parameters.