Chief Secretary, Himachal Pradesh, Launches World Bank Aided HP PFM Project
Ajay Singh Chahal, Himachal Pradesh
ajay[dot]chahal[at]nic[dot]in
|
Sep 7, 2017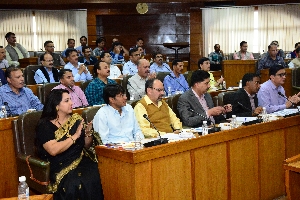 Sh. V.C. Pharka, Chief Secretary of Himachal Pradesh launched the World Bank Funded Project, HP Public Financial Management-Capacity Building Program, on 31st August 2017 at Shimla. Sh. Shrikant Baldi, Additional Chief Secretary Finance, Sh. Tanuj Mathur, Task Team Leader World Bank, Sh.Tarun Kapoor, ACS-Excise and Taxation, Sh. Jagdish Sharma, Principal Secretary IT, Sh. Kulwant Singh, Accountant General HP, Sh. Ajay Singh Chahal, SIO NIC HP and Sh. D.D. Sharma, Special Secretary Finance, World Bank Team, officers from the Departments of Treasuries and Accounts, NIC HP State Centre, Irrigation and Public Health, Excise and Taxation and Information Technology were present on the occasion.
Speaking on the occasion, Sh. Shrikant Baldi, ACS Finance informed that Himachal Pradesh is the first State in the country to be funded through the World Bank under the Capacity Building Program. The reason for this is that HP is one of the few states in India that has completed Public Expenditure and Financial Accountability Assessment. This Program supports strengthening of Public Finance Management in a Special Category State and this improving Governance.
The NIC Himachal Pradesh has a significant role in this World Bank Aided Program, as three of its software applications are being supported for enhancements. These are Integrated Finance Management Information System, eProcurement and Contract Management System or Works MIS of HP Irrigation and Public Health Department. The Excise & Taxation department is the 4th Department covered under this program for which the State has recommended NIC but due to resource issue, the NIC HP is not inclined to take it up and conveyed the same to the State Government.
All the Departments concerned presented their current status of ICT applications and the targets fixed under the Disbursement Linked Indicators for their respective Departments.
The SIO NIC gave a presentation on the three Projects in which NIC is associated and highlighted the core strengths of NIC HP, covering the Large projects like Land Records and IFMIS, National level projects of Manav Sampada, Mid-Day Meals Automated Reporting and Management System and under development ICT solution for HP  Public Service Commission, Mobile Apps, Infrastructure support. He explained the DLIs, Expectations from the State Government and Plan of NIC in achieving the DLIs in collaboration with the State Departments.
The Chief Secretary expressed confidence that the concerned Departments will achieve the targets assigned to them under the World Bank DLIs so that the funds are released timely to meet yearly targets over the next 5 years.