Nagaland : Presentation of LaPaMS at DC Office, Dimapur
Novotsono, Nagaland
novotsono[dot]natso[at]nic[dot]in
|
May 16, 2017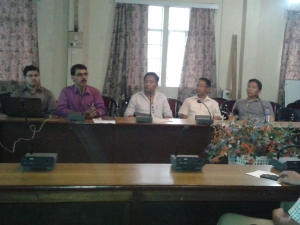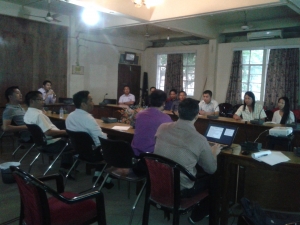 A presentation on the Web-based and open source-based Land Records Application Software, LaPaMs (Land Patta Management System) developed by NIC Assam State Centre under the supervision and guidance of Shri. Hemanta Kumar Saikia, Senior Technical Director, NIC, Assam was jointly organized by the District Administration and NIC Dimapur on 9th May 2017 at the Deputy Commissioner's Conference Hall, Dimapur, Nagaland. The objective of this presentation
was to familiarize the higher authorities of Land Records Administration on the features/functions of the application and get feedback from them for further necessary addition or modification in the application before implementation. This software will be used by the District Administration in all the Districts of the state for managing the Land Patta information system which has so far been in practice manually in the Districts of Nagaland.
LaPaMs will also be linked with Bhunaksha, Property Registration and will be made eKYC
enabled. The presentation programme was chaired by Shri. V. Vikishe Sema, Technical Director, NIC,
Dimapur, followed by an address from Shri. Kesonyu Yhome, IAS, Deputy Commissioner Dimapur. The DC specially appreciated Shri. Hemanta Kr. Saikia, Sr. Technical Director, NIC
Assam, Shri. Henok Bhuchem, NCS, Revenue Officer and Shri. V. Vikishe Sema, Tech. Director, NIC, Dimapur for their sincere efforts in making this software for the state of Nagaland. The DC
also suggested that initially it may not include all the modules but will start immediately from the month of June, 2017 with the necessary basic features that the LaPaMs software now
provides.
The overall presentation on the LaPaMs software was given by Shri. Hemanta Kumar Saikia, Sr. Technical Director NIC, Assam. Shri Saikia has shown how LaPaMs can be used to enter/edit the legacy data of Jamabandi and Chitha and also Mutation and Partition modules for regular updation of land records. He has also shown them various reporting modules Jamabandi(RoR),
Chitha, Mutation Order, Land Patta Book etc. which are provided to the land owners. In addition to the presentation he also shared knowledge about the funding pattern from DoLR under the DILRMP project to each state government and UTs. The presentation was also attended by Revenue Officer(both outgoing & incoming), SDO(Civil) , Deputy Director Land Record & Survey/staffs, Dealing Assistants of the Revenue Branch of DC's Office and NIC Officials of Dimapur.
Reported by:
Shri V.Vikishe Sema, TD
NIC, Dimapur District Centre, Nagaland