State level Workshop on Innovation in Education and Engineering Design by State Innovation Cell, Odisha
A. K. Hota, Odisha
ak[dot]hota[at]nic[dot]in
|
Nov 11, 2016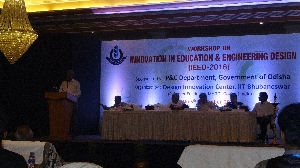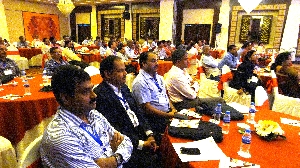 The Planning & Convergence Department, Government of Odisha, has constituted the "Odisha State Innovation Cell" to develop innovation ecosystem in the state and to prepare strategy for introducing innovation in Government.
NIC Odisha State Centre is actively involved with the innovation cell not only for development of dynamic portal but also to extend all possible ICT support to drive innovation agenda in the state and harness core competencies, local talent, resources and capabilities to create new opportunities.
As a part of Interconnectivity within various educational / research institutions, one day workshop on "Innovation in Education and Engineering Design" (IEED-2016) was organized in collaboration with the Planning and Convergence Department, Govt. of Odisha and Design Innovation Centre (DIC), IIT Bhubaneswar at Hotel Swosti Premium, Bhubaneswar.
Shri R. Gopalakrishnan (Executive Director, Tata Sons Ltd, Member, National Innovation Council-NInC) graced the occasion as Chief Guest for the event.
The NIC team comprising of Dr. A K Hota, STD, Shri Tapan Ray, TD and Shri Nihar Ranjan Biswal, Scientist-D, under the guidance of Shri P. K. Pramanik, DDG & SIO, coordinated the Awards distribution session for successful innovative proven concept / projects / prototypes.
Out of 50 odd applications, following three projects received the Award on the occasion.
Project -1  - Mobile Application – 'Lifeline'
With the Innovative Idea of Transforming the total health organization into a digital platform to implement and facilitate quick and robust system to help the patients at the time of need and emergency, three young students from NIST, Berhampur collaborated to jointly develop  a website and a mobile phone application through which people can be linked with medical system.
Project-2 – "Centre of Empowerment" (Social sector)  The project involves Public Private Academia Community Partnership (PPACP) in establishing frontline extension systems at district level towards Rural Development.
Project- 3 – 'Recycle of Asphalt Pavements'
The project "Recycling of Asphalt Pavements using two Locally Available Oil Type Rejuvenators" was successfully carried out by Sri Prateek Nayak, presently working as Assistant Executive Engineer at Works Department Govt. of Odisha.
Video documentaries of such innovations were prepared by the NIC team with voice over by Smt. Sujata Das, Scientist-D and Smt. Sasmeeta Sabat, Scientist-B, which were played during the award distribution.
The workshop was graced by large number of policy makers, engineering graduates, and faculty members of different disciplines from various engineering colleges of the state.
Participating in various sessions Shri R. Balkrishnan, IAS, Development Commissioner cum ACS, Prof. R. V. Raja Kumar, Director, IIT, Bhubaneswar, Prof. B. Gurumoorthy, IISc Bangalore, Shri. H. Senapaty, Director NCERT, Shri S. K. Mohapatra, Dean, Continuous learning programme, IIT Bhubaneswar, etc. delivered their address.
It is worthwhile to mention that the logo of State Innovation Cell designed by NIC and approved by Government of Odisha was released by Development Commissioner cum ACS. The use of logo started first time from this conference.
Currently NIC, Odisha State Unit has been entrusted with the job of developing a web portal for State Innovation Cell to facilitate online application by candidates across the Country to apply for Innovative ideas / concepts and prototypes with a mobile app facility.