e-Procurement in Orissa bagged G2B (Government to Business) Initiative of the year 2009 – e-India Award
A. K. Hota, Odisha
ak[dot]hota[at]nic[dot]in
|
Aug 1, 2009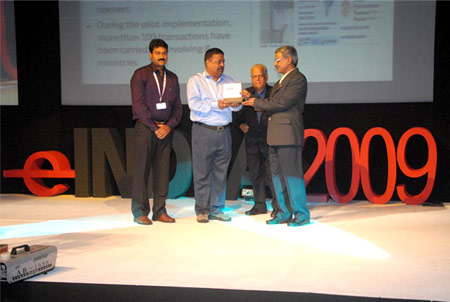 eProcurement movement initiated during 2007 by Govt. of Orissa partnering National Informatics Centre received it's commendation with the award from eIndia2009 at Hyderabad on 26th. August 2009. Orissa eProcurement project received the award for G2B(Government to Business) initiative of the year 2009.
eIndia2009 conference and exhibition is being organised by Centre for Science, Development and Media Studies (CSDMS) and Elets Technomedia Pvt Ltd and Ministry of Communications and Information Technology, Govt. of India as its co-organizer.
The initiative that has brought more transparency and efficiency in place, for the Government procurement process was highly acclaimed in the conference.
Receiving the Award, Shri S. K. Panda, SIO Orissa, expressed his gratitude & thanks to Hon'ble Chief Minister, Orissa, and IT Secretary, Orissa for patronizing the unique initiative & DG, NIC & Dr. Y K Sharma, DDG for proactively guiding the project all along.
He also expressed his heartfelt thanks to NIC, Chennai team Shri M Manivannan, STD and Shri S. Raghavan, STD, for their dedicated support apart from NIC, Orissa team Shri Ashok Kumar Hota, Technical Director, Shri Tapan Prakash Ray and Shri Nihar Ranjan Biswal for their hard work and dedication for the success of the project.