"Workshop on ""Website Quality Accessibility & Security?"
Santosh Shukla, Madhya Pradesh
santosh[dot]shukla[at]nic[dot]in
|
Jun 6, 2009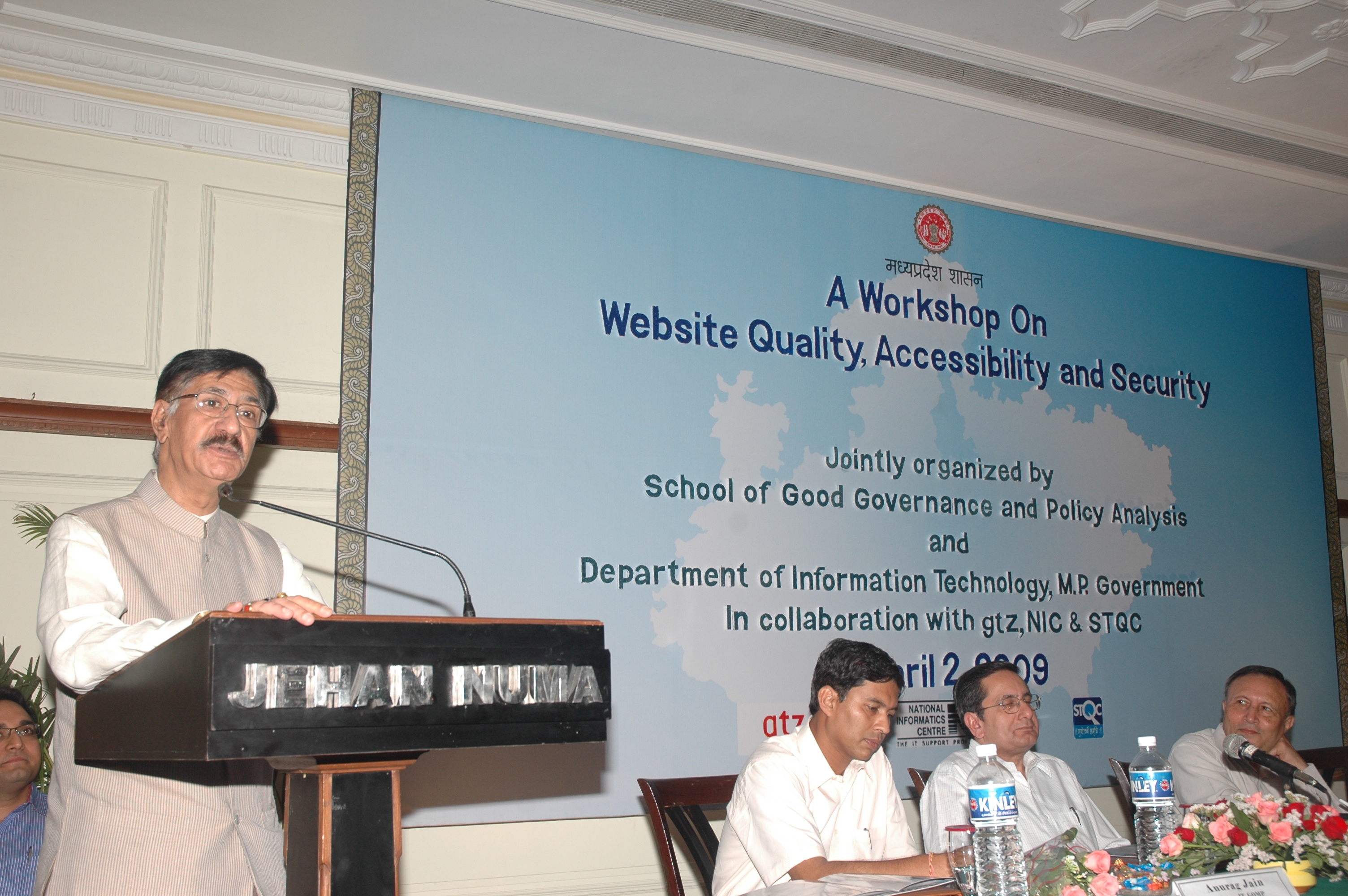 "On NIC's initiative, a workshop on "Website Quality, Accessibility & Security" was jointly organized on 2nd April 2009 by State IT Department & School of Good Governance & Policy Analysis (SGPA), in collaboration with NIC, State Centre, Bhopal, STQC & gtZ (The Deutsche Gesellschaft für Technische Zusammenarbeit). The workshop was attended by more than 250 participants, including, Principal Secretaries, Secretaries, Head of the Departments, Chief Information Officers (CIOs), ACIOs & Web-Masters from various Departments of the State Government, among the others.
In his keynote address during inauguration Session, the Chief Guest of the workshop, Shri R.C Sahni, Chief Secretary of the State, focused on need of up-to-date information and services on the website with full security & privacy. He added that "Citizen-centric Services, growing on the websites of Central & State Government Departments/Organizations, needs sensitization and access to these services by the consumers to be secured". Dr. H.P. Dikshit, Director General, SGPA, Shri Gulshan Rai, Director General, STQC, Shri Shekhar Dutta, Deputy National Security Advisor and Shri Anurag Jain, Secretary to CM & Information Technology, Govt. of Madhya Pradesh also addressed during the inaugural session and emphasized on need for quality & security of websites and services.
Shri Vinayak Rao, SIO, NIC MPSC, Bhopal was one of the key speakers during first Technical Session (Pre-Lunch) among the others. SIO briefed the major activities & services, being extended by NIC to the State Government, besides clarifying responsibility of contents accuracy & maintenance, as the users organizations are the owner of the websites operational on NIC Servers. He also advised the State Government to make it mandatory to follow the "Guidelines for Indian Government Websites" and to conduct third party security audit by empanelled Security Auditors (available on CERT-in website) in a regular interval.
Second Technical Sessions (Post-Lunch) was especially organized for CIOs, ACIOs & Web-Masters. The key speakers during this session were Shri Sanjay Hardikar, TD, Shri Mayank Nagar, PSA, Shri Rakesh Jain, SSA, Shri R.Prasad Rao, SSE & Shri Chandra Prakash, SA, covering more technical areas related to "Websites & Web-enabled Applications - Hosting & Security", "Network Security/Virus", "FTP over VPN – Secured way for maintenance of Website & Web-enabled Application" & "Security Guidelines for Websites & Web-enabled Applications".
Shri Anurag Jain, in his concluding remark, advised all the concerned to follow the guidelines for Website Quality, Web-application Security, E-mail Security, Desktop Security, etc. as per the recommendations. Shri Vinayak Rao, assured Secretary (IT) to continue providing all the technical support not only in this process, but also in e-Governance growth of the State.
"