Bhoomi Samman Award 2023 - Odisha Emerged Best State in Country
Shri Hara Prasad Das, Odisha
hp[dot]das[at]nic[dot]in
|
Aug 23, 2023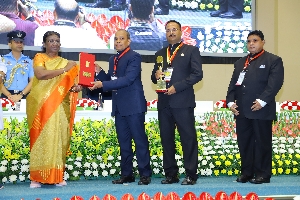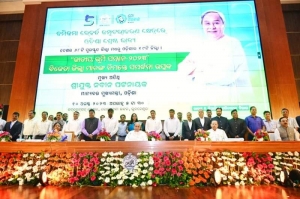 Odisha has been conferred with the Bhoomi Samman Award 2023 as the Best State in the Country for its outstanding achievements in the implementation of the Digital India Land Records Modernization Programme (DILRMP). Out of 68 districts of the Country, 19 districts of Odisha have attained 100 percentages of objectives of DILRMP and have bagged the prestigious awards.
Hon'ble President of India, Smt. Droupadi Murmu conferred the prestigious award in Vigyan Bhawan on 18th July 2023. The districts were represented by the respective Collectors / ADMs.
It may be noted that, all services of Revenue & Disaster Management Department can be applied, tracked and availed online. More than 13,000 cases have been heard and disposed through virtual courts. Nineteen districts of Odisha have attained 100 percentages of its objectives in many components such as digitization of textual records, digitization of spatial records, integration of textual & spatial data, computerization of DSR/SR offices, integration of Tahasils and registration offices, construction of modern record rooms etc.
On 10th August 2023, a felicitation ceremony was also held at Lok Seva Bhawan Convention Centre, Bhubaneswar where in Hon'ble Chief Minister, Odisha, Shri Naveen Patnaik distributed Trophy & Citation to the team comprising officers from 19 districts for their outstanding work in computerizing land records.
Delivering the welcome address Shri Satyabrata Sahoo, IAS, Additional Chief Secretary, Revenue and Disaster Management Department appreciated the contribution of NIC in achieving this award.
Role of NIC in Computerisation of Land Records, Digitization of Cadastral Maps, Linking of Textual and Spatial Data of RoR (Record of Rights), Computerisation of Modern Record Rooms of Tahasils, Linking of Revenue Offices with SRO (Sub-Registrar Offices)  has immensly facilitated this outstanding performance.
Speaking on the occasion, Hon'ble  Chief Minister congratulated the revenue administration and the districts for the award and said that 100 per cent digitisation of land records by all other districts will be completed by the end of this financial year.
Shri Jyoti Prakash Das, IAS, Inspector General of Registration (IGR) delivering the vote of thanks highlighted the contribution of NIC towards this achievement.
The event was graced by many dignitaries including Smt.Pramila Mallick, Hon'ble Minister for Revenue and Disaster Management, Shri P K Jena, IAS, Chief Secretary to Govt of Odisha, Shri V K Pandian, IAS, Secretary to CM (5T), Shri Manoj Kumar Mishra, IRTS, Principal Secretary, Electronics & IT, Dr. A K Hota, DDG & SIO, NIC Odisha along with the Land Records team.