ONLINE PLATFORM LAUNCHED FOR ACCREDITATION TO JOURNALISTS IN PUNJAB
Parminder Kaur, Punjab
parminder[dot]kaur[at]nic[dot]in
|
Aug 7, 2023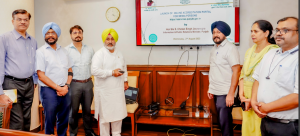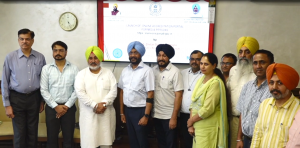 Punjab Information and Public Relations Minister S. Chetan Singh Jauramajra on 2nd Aug 2023, launched an online portal, designed to streamline the process of journalists obtaining their accreditation.  The portal developed by NIC Punjab for the Department of Information and Public Relations, has transformed the process of issuance of identity to media persons.
The Cabinet Minister S. Chetan Singh Jauramajra, appreciated the efforts put in by DIPR and NIC Punjab for creating portal which will revolutionize the process of issuance of accreditation to journalists. Aspiring and established journalists can navigate the application process with ease and convenience.  By utilizing the platform, they can submit their documents, verify their credentials and gain accreditation in an efficient and timely manner and it would be given as per the eligibility conditions and Quota limits specified in the guidelines. 
Secretary IPR Mr. Malwinder Singh Jaggi, IAS informed that online accreditation platform will allow journalists to submit their accreditation applications from the comfort of their own workplaces, whether at the district, state level or from Delhi. He said that the initiative aims to significantly streamline the accreditation process, minimizing manual intervention and reducing approval times.
Director IPR Mr. Bhupinder Singh, IAS said that journalists can now submit their applications directly, eliminating the need to travel to regional or state offices. This innovative approach will save time and resources for journalists working in diverse regions. He further told that once applications are submitted, the system automatically escalates them to the approval authority at the state level. The absence of manual intervention expedites the process, ensuring quick and efficient accreditation. In the event of objections to an application, the system enables the process to be conducted online. Applicants can address objections and make necessary adjustments directly, avoiding unnecessary visits to offices.
Sh. Vivek Verma, Deputy Director General & State Informatics Officer Punjab, under whose guidance the application has been developed, said that the application has been developed in ServicePlus which is e-Service delivery framework developed by NIC for delivering electronic-services to citizens. He further said that the applicants receive SMS and email alerts, keeping them informed about the status of their applications and the expected time for approval.
On this occasion, Sr. Director & ASIO (D) Mrs. Usha Rai, Director (IT) Mr. Pankaj Jain,  Deputy Director (Press) Mr. Ishwinder Singh Grewal and Deputy Director Mr. Gurmeet Singh Khaira, were also present.