Bihar e-District Mission Mode Project through ServicePlus for EODB and EOL
Rajiv Ranjan, Bihar
rajiv[dot]ranjan[at]nic[dot]in
|
Oct 13, 2022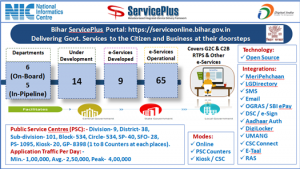 The e-District Project through ServicePlus is being executed by Department of Information Technology, Govt. of Bihar in coordination with Service Provider Departments and Bihar Prashasnik Sudhar Mission Society through ServicePlus software framework of NIC for providing govt. services to the citizen and business at their door-steps since April 2017.  
It covers G2C and G2B e-Services falling under both RTPS and Other category. Total 65 e-Services have been rolled-out and operational in whole state, 9 e-Services are launched and ready to be roll-out, and 14 e-Services are under different stages of configuration and integration. Total 6 Departments have been on-boarded and 5 Departments are under on-boarding process.   
Citizens of Bihar are getting these services on Bihar ServicePlus Portal (https://serviceonline.bihar.gov.in) through Online, Public Service Centres (about 15,000 counters operational at all the 9 Divisions, 38 Districts, 101 Sub-Divisions, 534 Blocks, 534 Circles, 40 Superintendent of Police Offices, 28 District Forest Offices, 1095 Police Stations, 8398 Gram Panchayat of Bihar), Common Service Centres (35,000 nos.), and Kiosks (20 nos.) modes.   
Applications being received are more than 1,00,000 at minimum and 2,50,000 average with 4,00,000 peak load per day. Bihar ServicePlus contributes about 40% of the national traffic on ServicePlus - highest among the states.   
Bihar ServicePlus is integrated with MeriPehchaan single sign-on, C-DAC SMS gateway, NIC Email service, Bihar OGRAS & SBI ePay payment gateways, DSC Sign & C-DAC e-Sign facilities, Aadhaar based OTP & Demographic Authentication, DigiLocker, UMANG, CSC Connect etc. The portal is also integrated with other web applications of Bihar for automatic verification of certificates / licenses. Several e-Services of Bihar are operational on some other web applications, which are being integrated with ServicePlus for creation of unified Dashboard and MIS Reports. 
The configuration and launch of e-Services on ServicePlus software framework and maintenance of Bihar ServicePlus Portal is being done by ServicePlus Team of NIC Bihar. The development and changes of core functionality of ServicePlus and development of Web Service API for integration with other software applications are being done by ServicePlus Team of NIC-HQ, New Delhi.    
Moreover, ServicePlus Portal of Bihar is being integrated with Single Window Clearance System (SWCS) of Bihar for Ease of Doing Business (EODB) and other Software Applications of Bihar for Ease of Living (EOL). These initiatives are being monitored under the Chairmanship of Chief Secretary, Bihar.