Launch of Management Information System for Pong Dam Oustees at Kangra, Himachal Pradesh
Ajay Singh Chahal, Himachal Pradesh
ajay[dot]chahal[at]nic[dot]in
|
Sep 2, 2022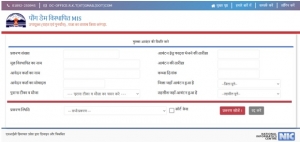 Sh. Nipun Jindal, IAS, Deputy Commissioner, Kangra launched the Management Information System for Pong Dam Oustees on 27th August 2022 at Dharamshala. Pong Dam is a large reservoir which has resulted in displacement of people from the State of Himachal Pradesh. Many people of Himachal Pradesh lost their home/land in Pong Dam in Himachal. Thousand acres of land has been reserved in Ganganagar District of Rajasthan for the rehabilitation of Pong Dam Oustees of 339 villages.
The software for the Pong Dam Oustees enables affected citizens to send online applications from Deputy Commissioner (Relief and Rehabilitation), HP to the Government of Rajasthan for allotment of Murabba to Pong Dam Oustees. These all applications are being sent to Rajasthan Government online and they are allotting the land to Pond Dam Oustees using the online software. In addition to land allotment, a provision has been made in the software for sanctioning other kinds of assistance to these Oustees, such as funds for house repair, marriage, education and medical assistance.
All Pong Dam Oustees can apply for these schemes. They have to register themselves at DC (RR) office, if not already registered, then they may apply for these four schemes. After physical verification at various level at DC (RR) level, these schemes are applied online from DC (RR) office and the same are submitted for sanctioning to Deputy Commissioner, Kangra office. These online submitted applications are verified by Assistant Commissioner to Deputy Commissioner at DC office.
After online verification, the application is forwarded to Deputy Commissioner online where the amount is sanctioned by the Deputy Commissioner. Then amount is then disbursed to the beneficiaries from DC RR. There are various reports on the dashboard which are very useful for Pong Dam Oustees as well as for officials use. It is a user friendly and easy-to-use interface which enables faster processing of applications, time and cost saving, and knowing of current status of land allotments, pending cases and applications for assistance under various schemes.
The software has been developed by NIC Himachal Pradesh and is available at https://rrcpongdam.nic.in for Government officials and public. The complete software interface is in Hindi language. Sh. Vijay Kumar Gupta, STD and Sh. Mukesh Dhiman, Scientist-C have developed the software and further customized it for enabling relief to the Pong Dam Oustees in a user friendly manner.