Chief Minister, Haryana Launched Vehicle Movement Tracking System Mobile App on 04/05/2022
Deepak Sawant, Haryana
sawant[dot]deepak[at]nic[dot]in
|
May 5, 2022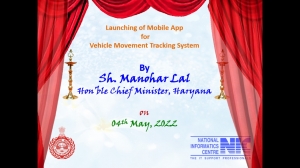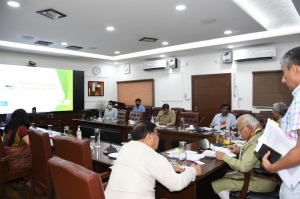 Hon'ble Chief Minister Haryana, Shri Manohar Lal launched the Vehicle Movement Tracking System (VMTS) Mobile App on 04/05/2022. This App has been designed and developed in-house by National Informatics Centre, Haryana. This is a generalized app and it can be used for multi-purposes like to track vehicles having sand, concrete, mining etc.
The app will be used at different checkpoints in all the districts of Haryana. Only the Users whose mobile number is registered in database will be authorized to login in it. Vehicle details along with driver information will be entered in the app like vehicle number, vehicle type, moving from, moving to, driver name, driver mobile number and driver licence number.  If the vehicle is to move further between source & destination checkpoint then official can mark the vehicle exit from check post as interim exit and on destination checkpoint, it will be marked as Final exit. All the travel history of vehicle movement is maintained and can be viewed through App anytime.
During the launch event, Shri Jai Parkash Dalal, Minister of Agriculture & Farmer Welfare, Dr. Kamal Gupta, Minister of Urban Local Bodies, Shri V. Umashankar, Principal Secretary to Chief Minister, Shri Vikas Gupta, Chief Executive Officer, Haryana Parivar Pehchan Authority, Shri Deepak Bansal, DDG  & SIO , NIC-Haryana ,  Shri Deepak Sawant, Scientist-E, NIC and Shri Sanjeev Kumar, Scientist-B, NIC were also present.