"A multi dimensional view of use of technology in Government" presented at LBSNAA, Mussoorie for future leaders
Arvind Dadhichi, Uttaranchal
ak[dot]dadhichi[at]nic[dot]in
|
Dec 14, 2021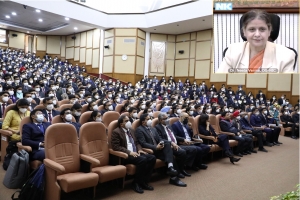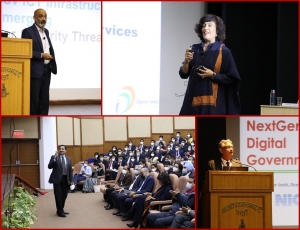 DG NIC (Dr. Neeta Verma) presented "A broader picture of e-Governance, and the use of ICT in India, and NIC's role in it". Her session was followed by the DDG(Shri R.S. Mani) explaining "Some of the key features of the available e-Gov ICT Infrastructure and the security initiatives undertaken", DDG(Shri Pawan Kumar Joshi) talking on "The NextGen Digital Government", and the DDG (Dr. Seema Khanna) demonstrating "The Government's Messaging Services".
The audience of 488 Officer Trainees (OTs)of the All-India Civil Services and the Royal Bhutan Civil Services showed keen interest. Attending the ongoing 96th Foundation Course (FC), from 05-Dec-21 to 17-Mar-22, at the Lal Bahadur Shastri National Academy of Administration (LBSNAA), Mussoorie, they asked intelligent questions and got answered by NIC officers.
"Enabling Digital Dexterity for Future Leaders" is the theme conceptualised by the NIC Training Unit (NICTU) at LBSNAA for the ICT training of these OTs. At the very start, they are made aware of the diverse set of technologies, products, services, apps and digital platforms made available by NIC for government offices and employees.
Curated, coordinated and moderated by the Head NICTU (Shri Vinod Kumar Taneja), these sessions were conducted by the OT (Shri Deepak Gupta, Indian Civil Accounts Service). STD (Shri Manoj Joshi), PSA(Shri Rakesh Kumar Sharma), TD(Shri Azad Singh) and PSA (Shri Amarjeet Singh Dutt) were present at LBSNAA's Sampoornananda Auditorium, while the DDG(Smt. Alka Mishra) and DDG(Shri K. Narayanan) joined online.
The Director LBSNAA(Shri Srinivas R. Katikithala, IAS), in a brief meeting on 9th Dec '21, and the Joint Director (Smt. Radhika Rastogi, IAS) and the Deputy Director IT Section (Shri Shelesh Nawal, IAS), in a long meeting on 10th Dec '21, thanked the visiting NIC officers, on behalf of the LBSNAA and NICTU at LBSNAA.