Inauguration of Modern Revenue Record Room established in all 22 Districts and 2 at State HQ by Honorable Chief Minister Haryana
Deepak Sawant, Haryana
sawant[dot]deepak[at]nic[dot]in
|
Nov 23, 2021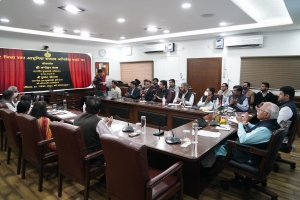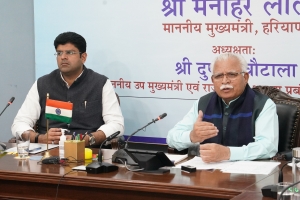 Haryana Chief Minister, Sh. Manohar Lal inaugurated Modern Revenue Record Rooms on 21st November 2021 set-up at 22 District HQs and 2 State HQs (Haryana Civil Secretariat & Haryana New Secretariat, Chandigarh through video conferencing. Approximately 18.50 crore Revenue Records have been digitized so far.  Hon'ble Members parliaments, State Cabinet Minister and Member legislative assemblies were present at various District Modern record Room.

The project aims at digitization of old revenue records, including that of previous centuries also, thereby providing a means of preserving these ancient records in secure and tamper proof manner. Previously difficulties were faced by revenue official to  preserve ever  mutilating  paper based old revenue records, retrieve / present the  record  on demand when desired.   Department of Revenue & Disaster Management, Haryana Government  decided to  establish Modern Revenue Records Room (MRRR) and Scanning & Digitization of various revenue records with all the relevant chronological sequence order details & metadata like Jamabandies, Mutations, Misal Haqiyat, Registered Deeds, Field Books, Mussavies, Revenue Court Cases Judgments & Orders, Land Maps etc. of various sizes (from A4 to A0) and in various languages (Hindi, Urdu, Arabic) etc. at State HQ, Divisional Commissioner Office, District HQ, Tehsils, Sub-Tehsils, Patwar Khana and DoLR Office. NIC had designed and developed the MRRR project software and scanning related activities was outsourced to private party. This exercise will ensure safe and secure upkeep of the physical records in fire-resistant Galvanized Metal Boxes for longer preservation. Easy retrieval of records in electronic form and supply of original records scanned copies, as and when demanded by the citizens.
The system provides following facilities:-
Record Room Management: Management of Racks, Galvanized Boxes and Physical files for easy retrieval. QR codes of boxes & Racks are generated.
Lot Management: For Issuance & Return of Documents/Records to Digitization agency.
Digitization/Indexing/Storage: The agency Scan, Index & create PDF files and uploads indexed meta data and PDF files into the RRRMS application.
Verification of Scanned documents: After uploading of meta data and scanned PDF files, department's verifier quality checks and verifies all scanned pages (100%) and then Hartron operator checks 10% of scanned pages randomly
Approval of Scanned documents: 20% of scanned pages are quality checked and approved & digitally signed by the approving authority (Concerned DRO).
Searching / Printing of Record: Ability to search and print specific pages for the public. Auto calculation of cost of printed pages. 
Physical Record Movement: Physical Files can be issued to department officials.
Dashboards & Reports: Various dashboard for monitoring at state level, district level and record room level and reports for DRO, DLR, Hartron, Record Keeper & agency
While inaugurating  the  record rooms, Chief Minister, Haryana appreciated the in-house software development team  of NIC  for  developing  such  software and making changes in  the same  at short notice from time to time.

 Under Phase-1, Modern Revenue Record Rooms (MRRR) have been set-up at 22 District HQs and 2 State HQs (Haryana Civil Secretariat & Haryana New Secretariat, Chandigarh. Further, Tehsils, Sub-Tehsils, Patwar Khana and Deptt. of Land Records will be taken-up under Phase-II. There were approximate 18.50 Crore Revenue Records at all such locations under the first phase. The work under Phase – II, is in progress and will be completed by the end of 2022.

In this occasion, Sh  Dushyant Chautala, Hon'ble Deputy Chief Minister, Sh Sanjeev Kaushal, ACS & FCR Revenue Department, Sh V. Umashankar, PSCM, Ms Amna Tasnim, IAS, Director Land Record  and Sh Deepak Bansal, DDG & SIO, NIC-Haryana along with Sh Alok Srivastava, STD NIC were also present.