e-Budget : Paperless Budget of Finance Department, Government of Odisha.
Shri Hara Prasad Das, Odisha
hp[dot]das[at]nic[dot]in
|
Nov 16, 2021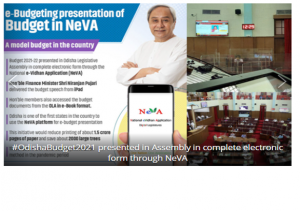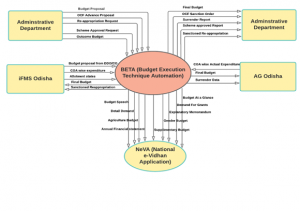 Brief Overview: The Odisha Budget 2021 was tabled in the Assembly  by Finance Minister Shri Niranjan Pujari through digital mode . Odisha is one of the pioneer states in the country to adopt complete e-budgeting by building digital infrastructure and by actively promoting adoption and usage of budget documents in electronic form. The minister delivered the budget speech from an iPad and all the Members of the august house accessed the budget documents in an e-book format. The budget is available on National e-Vidhan Application (NeVA) and a dedicated Odisha Budget mobile App is also available in app stores. The e-budget entailed printing of about 75 lakh pages. Sources said that this time around 150 lakh pages, double the amount of last year, will not be printed. This will result in saving at least 2,000 big trees.
e-Budget ( Budget Execution Technique Automation), BETA is an intra- secretariat web based application running exclusively on secretariat LAN of Govt. of Odisha. Role of each and every type of user is predefined by Budget Section of Finance Department, Govt. of Odisha. The main objective of the system is to simplify, improve and systematize the budget execution process. This application has reduced  physical file movements  among various state Govt. Departments for finalizing the Budget Estimates. This application is now used by all concerned departments for processing of both Annual as well as Supplementary Budget proposals. After final approval of the budgets, 32 different types of reports(bilingual), constituting all statutory reports are  generated and sent to Govt. press for printing multiple copies, which are laid in the floor of Legislative Assembly for voting. This time without any printing the Budget documents were electronically sent to Odisha Legislative Assembly directly through National e-Vidhan Application (NeVA) for presentation on the floor. The system has been integrated with iFMS, Odisha  to manage re-appropriation process and to maintain Head of Account wise budget position. The system helps the higher authorities in keeping the track of the entire budget process.
Salient Features:
1. Annual Budget/ Supplementary Budget
Through the  system the user  pulls Budget proposals (DDO/CO level) from iFMS system to carry out necessary addition and alteration. There is a provision of consolidating the data into Development Sector / Sub-Sector / Scheme level, to which user has to add certain extra information like expected expenditure till end of March and Central share in case of CSS. After finalizing the data user has to submit the same to P&C department for ceiling finalisation. P&C Department will provide ceiling against the schemes, which will be made available to user at Administrative Department(AD). Then user has to re-distribute the ceiling at Chart of Account level. System provides required reports for plan ceiling finalization, scrutiny report and draft plan reports which helps the department in finalizing the budget (ceiling) distribution. After verification users from AD level submit final proposals to Finance Department for final acceptance.
2. Re-appropriation Process
This will help the authorities to keep track of movement of the fund from one Chart of Account to another and thus at any moment Chart of Account wise actual Budget provision can be ascertained.
3. Surrender Process
System generates the Surrender statements using Annual Budget data, Supplementary data and Re-appropriation data, which are sent to AG, Odisha.
4. Approval and Appraisal of Schemes through EFC and SFC
Systematic appraisal and approval of new schemes or new services, existing schemes where the scope or cost estimate is proposed to be substantially altered and schemes continuing without appraisal are also handled by the application.
This online application is used for Concept note for in-principle approval of new scheme as well as for Preparation of Detailed Paper (DP) or Detailed Project Report (DPR) and online approval of the same.
5. Cash Management
Cash Management system has been made online for effective monitoring of the expenditure pattern, improving the quality of expenditure, better Ways & Means Management and thus managing even pacing of expenditure within the financial year.
6. OCF Advance Process
Using this application Administrative Department sends Application for Advance from Odisha Contingency Fund, which are prepared with proper validation. Applications are approved at Finance Department and against approved application Department uploads the detailed sanction order, any requirements etc.
Key Stake Holders and Roles:
All Administrative Departments
          Scheme Officer               – Transactions process relating to Schemes for processing of SFC/EFC and Outcome Budget modules 
          FA/AFA                              – Transactions process
          Secretary              – Approval/Rejection of transactions
Planning & Convergence Department
          Deputy Director     – Process the Program Expenditure proposals as received from various departments
          Nodal Officer                    – Approval/Rejection of program Expenditure proposals and the Re-appropriation proposal
          Budget Brach                   – Process transactions as received from departments
          Branch Officer                 – Approval/Rejection of transactions
          Compilation Branch – Final compilation of transactions
          Budget Officer                 – Review
Technologies Used:
Languages & Technology: .Net Framework 4.5, C#, JavaScript, Jquery
Reporting Tool: iText 7.0 , pdfCalligraph
RDBMS: SQL Server 2017
Outcomes and key achievements:
The outcome of system generated budget is a progress card on what various departments have done with the amount assigned in the previous annual Budget. It measures the outcomes of all government programmes and whether the money has been spent for the said purpose. Scheme wise objective, output and outcome are prepared online by Scheme Officers of various departments, which are reviewed by FA/AFA and finally by Budget Section of Finance Department. Preparation of flawless Annual and Supplementary Budget for each financial year is carried out by using this system.
Way Forward:
Paperless e-Budget system has been built with a vision to save huge amount of paper and time to print voluminous budget documents and to provide an integrated and consistent view of the performance of Government Programs / Schemes. The system provides all the budgetary documents in digital format that includes Budget at a Glance, Budget Summary, Revenue Receipts, Revenue Expenditure, Capital Expenditure along with all other budget related information both in Odiya and english, which helps common citizen  to freely access and review the documents.
Dilip Kumar Jena Sr. Technical Director dk.jena@nic.in
Minati Sahoo Sr. Technical Director m.sahoo@nic.in
TESTIMONY
The team of NIC, Odisha has been the technical partner of Finance Department, Government of Odisha from the initial days of automation of Budget preparation and consolidation during 2010 to the current stage where the BETA (Budget Execution Technique Automation) application encompasses a wide range of PFM (Public Financial Management) functions of the State Government. Now, BETA application is used for Budget preparation and consolidation, monitoring of reconciliation, generation of year-end surrender statement, system-based appraisal of State Schemes and Projects, expenditure monitoring, preparation of Outcome Budget, and generation of a number of Budget disclosures and statements.Other successful platforms developed by NIC, Odisha are ALFA (Automation of Local Fund Audit) and OCAMP (Odisha Central Audit Management Portal) which have been effective in complete automation of the audit and compliance processes.
Their sincere efforts and commitment in making all the IT projects and initiatives user friendly and accessible by the end-users are commendable. This partnership would help Odisha in bringing digital transformationin PFM architecture. I wish them all the success in all their future endeavours.
DR. S. P. RATH
Additional Secretary to Government,
Finance Department, Government of Odisha