Mahasamund district police website launched by DJ
Y. V. Shreenivas Rao, Chattisgarh
yvsrao[at]nic[dot]in
|
Aug 27, 2021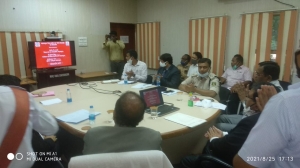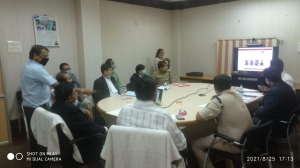 With the intent of bringing the police closer to the citizen and to have more cooperation and support from the citizen for better policing in the district, district police have approached NIC for preparing an informative district police website. 
A suitable website has thus been developed by NIC Mahasamund with provisions for dissemination of important information about district police, key statistics, contacts, galleries and important links etc. The site can be reached at http://mahasamundpolice.cg.gov.in
District Police website was inaugurated by Honourable District and Sessions Judge Shri B P Pandey on 25th August 2021, in the gracious presence of District Collector Shri Doman Singh, IAS and Superintendent of Police Shri Divyang Patel, IPS.
Honourable District and Sessions Judge inaugurating the website went through various features of the portal and appreciated the effort of NIC team for bringing it up in a month's time. He requested the district police to make use of this website to reach the citizen by adding valuable and essential information. 
Speaking on the occasion the Superintendent of Police Shri DivyangPatel,IPSadded that enough care should be taken to regularly update the site so that the citizen can get the latest information about district police on a click.
District Police website is developed by Shri Devendra Kumar, DIO Mahasamund, with bilingual support (Hindi and English) havingresponsive design, following the state-of-the-art technique and security audit process.