Haryana:- Launch of Unique Land Parcel Identification Number (ULPIN) on 31/03/2021
Deepak Sawant, Haryana
sawant[dot]deepak[at]nic[dot]in
|
Apr 2, 2021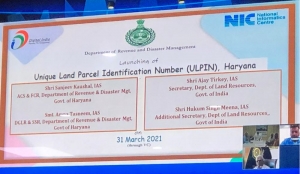 The Haryana Financial Commissioner, Revenue, Mr. Sanjeev Kaushal launched Unique Land Parcel Identification Number would be assign to every plot to identify it uniquely and unambiguously, a pilot project through video conference on 31/03/2021 in the presence of Mr. Ajay Tirkey, Secretary, Land Resources, Government of India.
The main objective of this project was to create online Land Information System with open standards of APIs (Application Programming Interface) that is based on GIS and OGC compliant so that other stakeholders could use them online to generate further value. It will also provide comprehensive information on land and properties, consisting of textual and spatial data besides maintaining the consistency of core data across all departments and agencies of the Government countrywide. Helps cross validate land records related data across departments. Standardization at data and application level would bring in effective integration and interoperability across departments 
During the launch, Shri Deepak Bansal, DDG & SIO, NIC-Haryana briefed about need, process and benefits of the ULPIN. Shri Hukum Singh Meena, IAS, Additional Secretary, Department of Land Resources, Govt. of India, Smt. Amna Tasneem, IAS, DGLR & SSR, Department of Revenue & Disaster Management, Govt. of Haryana, and Sh. Gurpreet Saini, Scientist-E, NIC-Haryana were also present. The application has been developed by NIC using Bhunaksha.