J and K : Initiatives and ICT support by NIC JK and Ladakh UTs to Government during Covid-19 period
Jit Raj, Jammu and Kashmir
jit[dot]raj[at]nic[dot]in
|
Jul 3, 2020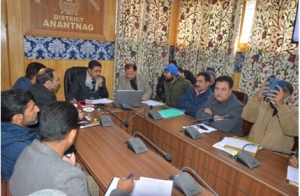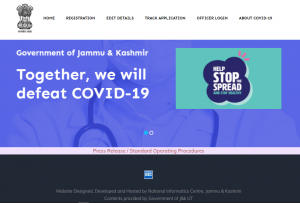 During the challenging time of COVID-19, NIC UTs of J&K & Ladakh are working in close coordination with State Health Authorities and District Administrations in fighting the challenges posed by COVID-19.    During the Lockdown period when people were asked to stay at home to get safe from Covid-19 infection, NIC J&K & Ladakh remained busy in arranging meetings through Video Conferencing, 24X7 smooth functioning of NICNET and Data Centre, implementing various ICT applications to control the Covid-19 pandemic. Some of the initiatives and ICT support provided   by NIC J&K & Ladakh UTs to Government arJan Mubarik Ahmade as under:-
NIC  J&K and Ladakh  has successfully conducted 561 Multiple VCs  sessions at State & District level  during Covid-19 period including 24 VCs by LG of J&K and 32 VCs by Chief Secretary.
e-Pass using ServicePlus framework implemented in 18 Districts of J&K and 2 in Ladakh. Around 58373 applications received &  20350 ePasses issued
Online Monitoring System (http://jkmonitoring.nic.in) launched for monitoring all aspects related to movement of stranded passengers during COVID-19 pandemic. It is an online application which helps the administration in state wise identification of sharmiks and their transportation process. It is a complete online system. Around 37000 migrants workers have registered so far.
Placement of NIC manpower as and when required basis with the State Health Authorities at State and Divisional Level   to provide technical support for implementation of various applications being used for better containment of
 Implementing Aarogya Setu Dashboard, Covid19CC & Covid19nhp (S3) portal to quarantine management, surveillance, hospital management and patient management. Contact tracing through Aarogya Setu was the main activity undertaken by NIC J&K. Daily progress reports are collected from the District and compiled at State level to help the Administration in controlling the pandemic and monitoring the overall situation.
Implemented RT-PCR and RATI apps for better management of Sample collection and patient details and also trained the state officials to use these apps.
ITIHAS: All the District and State authorities are trained to use ITIHAS which proved to be helpful in making forecast of Street level hotspots and taking preventive measures to control the spread of virus.
Bulk SMS services were started by NIC J&K for sending SMS to COVID19 Sampled persons on near real time basis. Around  5 Lacs SMS have been sent using NIC SMS Gateway
Control Rooms fully equipped with ICT infrastructure were established with the technical support of DIOs at Railway Station Jammu and Udhampur and Airport Jammu & Srinagar.  Around 90000 in bound passengers' details were registered for better management of passengers for Covid related activities like testing, isolation and quarantine.
All DIOs of J&K and Ladakh UTs are providing continuous technical support 24X7 to respective District Administrations in combating the Covid-19.
Portal for management of red Zones/Quarantine Centres/Transit camps/Essential supplies/Travel Management/Medicines and Drug, a   comprehensive COVID-19 Information Management System portal (http://combatcovidang.in/drs/login_drs.php) has been developed by NIC Anantnag and was inaugurated by Chairman DDMA/Deputy Commissioner on 20.06.2020. This MIS Portal proved to be very useful tool for District Administration for the management of Red Zones, Quarantine Centres, testing centre's, supply of essential supplies and medicines to red zones, transit camp and traveler management, management of critical patients and pregnant ladies.
Online reporting of Travel History: A web-portal (http://cobatcovidang.in) has been designed for Students and Travelers having travel history of Covid-19 affected countries and other affected areas of the country to report their travel history to local health authorities. As many as 1542 persons used the portal to get themselves registered.
Transit Management Information System (TMIS) has been developed & launched by District Centre Udhampur   to register the incoming train passengers arriving at Railway Station Udhampur through an Android App. The data is then processed at NIC Control Room through the admin login on the TMIS portal for further reporting to the higher authorities. The TMIS has been useful to segregate the passengers district wise so that they can be safely sent to their home districts.  Total of 15696 passengers have been registered at Railway Station Udhampur through special Shramik Trains.