J and K : Inauguration of the Jammu Bench of Central Administrative Tribunal
Jit Raj, Jammu and Kashmir
jit[dot]raj[at]nic[dot]in
|
Jun 24, 2020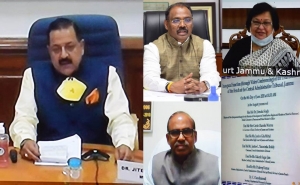 JAMMU, JUNE 08: Union Minister of State (Independent Charge) Development of North Eastern Region (DoNER), MoS PMO, Personnel, Public Grievances, Pensions, Atomic Energy and Space, Dr.Jitendra Singh inaugurated the 18th Bench of Central Administrative Tribunal (CAT) for the Union Territories of Jammu and Kashmir and Ladakh through Video Conference. 
Speaking after the inauguration, Dr. Singh said that the setting up of CAT Bench of Jammu to deal exclusively with service matters of government employees would go a long way in not only reducing the burden of various Courts and also provide to the persons covered by the Administrative Tribunals speedy relief in respect of their grievances and service matters.  He said that all three important agencies of DoPT- CAT, CIC and CVC are now operational in UTs of J&K and Ladakh.
During his address, the Lieutenant Governor, Girish Chandra Murmu observed that with the coming up of J&K bench of the Tribunal, the employees of J&K and Ladakh would now be better poised to seek the redressal of their grievances pertaining to service matters. Chairman, Central Administrative Tribunal, Hon'ble Mr Justice L. Narasimha Reddy gave the welcome address. The inaugural ceremony was also addressed by Chief Justice of the High Court of Jammu and Kashmir, Hon'ble Ms Gita Mittal. Member Judicial, Central Administrative Tribunal, Jammu, Shri RakeshSagar Jain gave the vote of thanks on the occasion.
The project is being executed by the National Informatics Centre (NIC) including the software application for cases data management which is developed by NIC. The VC for inauguration function, too, was organized by NIC. The project envisages setting up of ICT infrastructure, connectivity, technical manpower, software application and post implementation support.