DG, NIC briefs at the press conference on Release of Aarogya Setu Source Code
Shashi Kant Pandey, Delhi
sk[dot]pandey[at]nic[dot]in
|
May 26, 2020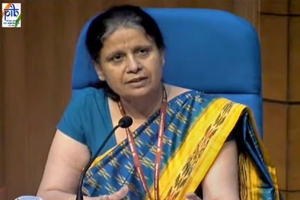 Government of India's 'AarogyaSetu', the mobile App developed in public-private partnership is to bring the people of India together in a resolute fight against COVID-19. A press conference was held on the release of source code of the Android version of Aarogya Setu on 26th May 2020. During the briefing, Dr. Neeta Verma, Director General of National Informatics Centre highlighted the importance of the application, the details of the code release and the usage of its information documentation. Dr. Verma further highlighted the bounty programme by the Government that would enable security researchers to avail Rupees One Lakh worth of bounty for finding security vulnerabilities within the app.
The senior officers of the government those who addressed during the press conference were Shri Amitabh Kant, CEO (NITI Aayog), Shri Ajay Prakash Sawhney, Secretary (MeitY) and Shri Abhishek Singh CEO (MyGov).
The Indian government promotes the use of open source technologies for its eGovernance endeavours. The release of source code of Aarogya Setu is in line with the government's open source policy. Making the code open source means that anyone such as a developer can inspect the source code and flag off any potential security risks. The source code of the application is now available for review and collaboration on GitHub.
The number of app users as on 26th May, 2020 is 114 million, which is more than any other Contact Tracing App in the world. Available in 12 languages on Android, iOS and KaiOS platforms, the key pillars of Aarogya Setu are transparency, privacy and security.
The video of the briefing is available at https://www.youtube.com/watch?v=d280duFXrg4