NIC-Haryana developed Haraadesh Portal for all COVID-19 related advisories, instructions, notifications, Government orders and awareness material
Deepak Sawant, Haryana
sawant[dot]deepak[at]nic[dot]in
|
May 21, 2020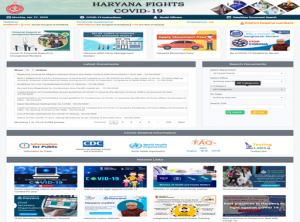 Haraadesh Portal (https://haraadesh.nic.in )
With the start of the COVID-19 crisis, Haryana Government took many ICT initiatives with the help of NIC Haryana to roll out various services and schemes for the benefit of the citizen of Haryana. Similarly, many online resources were being created by World bodies, central Government, and other organisations in the country to effectively overcome this crisis. These included informative and transactional portals, training material, guidelines etc.
As all this information was scattered, Haryana Government decided to develop a portal through NIC Haryana, which could provide all useful information related to COVID-19, including various documents and instructions issued by various state Government departments, links to various online services and other useful websites.  Haraadesh portal was developed and launched to provide one stop portal for all such information.
This portal has provision to upload and access all COVID-19 related advisories, instructions, notifications, Government orders and awareness material etc. issued by different departments and offices of Haryana Government as well as various Ministries of Government of India. The uploaded documents have been categorized based on Departments, Offices, Document category and topic/subject category and can be searched on search criterion such as departments, offices, topics and Keywords. The users can also shortlist the documents based on dates of issuance, categories, departments, topics etc.
The State Government has deputed nodal officers and assistant nodal officers for various departments who have been given login credentials for uploading their respective documents on the portal. In addition, login credentials have also been provided to all 22 districts of Haryana for uploading documents issued by respective district administration. As on date, 2954 documents have been uploaded on this portal.
Besides these documents, links to ICT initiatives like movement pass, registration of stranded persons, registration for opening of industrial units, COVID-19 dashboard, Relief camps, Distress ration token, Arogya Setu, MyGov, FAQs, Testing Labs, Best practices and more than 25 other applications and initiatives have been provided on the portal.