Haryana:-Stranded Persons/Migrants Management System
Deepak Sawant, Haryana
sawant[dot]deepak[at]nic[dot]in
|
May 20, 2020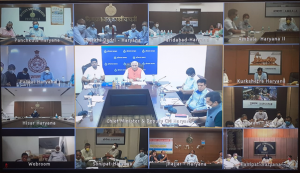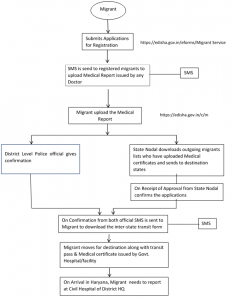 Stranded Persons/Migrants Management System
URL: https://edisha.gov.in
This system is meant for issuance of Interstate transit of stranded persons/migrants who wish to travel to their own states in Covid19 lockdown. There are two types of interstate Transit passes are being issued
Inward Movement
Outward Movement
First a form was provided to migrants for registration and published on leading websites of Haryana so that the migrants could register themselves and within three days, more than 10 lacs migrants registered themselves with member details along with mode of travel taken as Special Train/Bus/Own vehicle.
District administration approaches the migrants through their mobile no. and arranging special train/bus to send them off to their destination states. An interface has been given to police & roadways officials to record the boarding of migrants.
For the persons who wish to travel with their own vehicle, have been sent an SMS to upload a medical certificate of passengers wellness along with a link. As and when migrants are uploading their medical report, their passes are confirmed by district level police department and state nodal. Once their passes are confirmed by officials, an SMS is sent to the migrants to download the interstate e-pass containing date of travel along with Arogya Setu App. Now migrants can move to their destination on the specified date.
Facilities have provided for officials to view the records and confirm the passes along with facility to generate various reports & statistics. Currently Overall registrations: 1261582, Inwards registrations: 176255 and Outwards registration: 1085327