Haryana:- Financial Support To Unorganized Workers (http://poorpreg.haryana.gov.in)
Deepak Sawant, Haryana
sawant[dot]deepak[at]nic[dot]in
|
May 20, 2020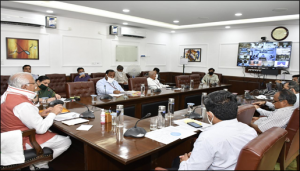 Govt. of Haryana has taken a step to provide financial assistance in current situation of Covid-19 to unorganized workers such as street vendors, rickshaw puller, domestic helper, and street vendors etc. who are not registered with State Government to get any financial benefit. Basic details such as Aadhaar, Name, DOB, Address, Account details and Occupation are being captured at the time of registration. Aadhaar and Name are getting checked in real time from UIDAI through AUA. Citizen can call helpline 1100 to register himself/herself. After due diligence of information, eligible would be provided Rs. 1000 per week till lock down. In the background, details are being cross checked from various other databases to find out if applicant is not getting any benefit under any other financial scheme like Registered Under Board of Construction Worker, Registered in Mukhya Mantri Parivar Samridhi Yojna. Rickshaw Puller, Labour in Restaurants/Dhabas and Auto Rickshaw with valid registration no. were auto included in eligible list.
  A verification module has been developed and given to DC to verify eligible families.  All workers who had registered themselves as Industry worker were pushed to Labour Department to verify the applicants. All verified records were pushed for account validation to the bank. Penny Drop Mechanism is being used to validate bank accounts. Bank returns name of beneficiary in bank whose bank account is credited with Rs. 1. Whose bank accounts and name were validated was pushed for payment module. Sanction officer generates sanction for all eligible and payment is credited into their bank account.
A total of 5,75,182 applications have been received and 2,27,362 lacs have been found prima facie eligible by de-duplicating from other data sets. 12,745 were in Auto Inclusion and rests were pushed to DC and Labour department for verification. 92,546 have been verified by DCs and 6,359 have been verified by Labour Department. All eligible records were pushed for Account validation and 71,576 beneficiaries' accounts and names were validated.  All eligible beneficiaries' have been paid 3 installments of 1000 per week.