Haryana:- DISTRESS RATION TOKEN (DRT) COVID 19
Deepak Sawant, Haryana
sawant[dot]deepak[at]nic[dot]in
|
May 18, 2020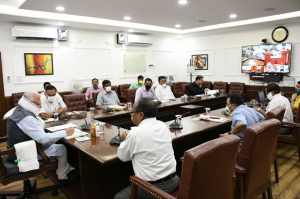 Distress Ration Token is an initiative taken by the Central and State Government to ensure that no citizen is deprived of Food during the Lockdown period. For this a unified platform is developed which is fully technology driven and connects with several systems to identify the needy citizens and also issues Distress Ration Token automatically.
            The Distress Ration Token is a sort of Ration Card with the entitlement of Other Priority Household (OPH) Category of Regular Ration Card but only valid for 3 Months i.e. April, May and June 2020. 
Further, The Distress Ration Token Portal is integrated through Web APIs with the following portals,
TrackPDS
Public Distribution System (PDS)
Mukhya Mantri Parivaar Samridhy Yojna (MMPSY)
BPL Ration Card Application Management System.
Parivaar Pehchaan Patra (PPP)
Unit/Local Committee Portal
Aadhaar enabled Public Distribution System
Help Me Mobile App
The process flow of information is as below:
DRT Generation Process,
The Data is processed from Mukhyamantri Pariwar Samridhy Yojna MMPSY (For the Families who are holding APL Ration Card), based on certain predefined conditions.
The Data is processed from BPL Applications SARAL (For the Families who are Verified by District Administration.
The Local Committee Survey Data where Ration Option is opted by the Families and forwarded by District Administration to District Food and Supplies Controllers.
The Ration Requests received on CM Twitter Accounts duly forwarded by the District Administration to DFSCs.
All Records is being checked with PDS, as the DRT holder should not be a beneficiary of the Public Distribution System in any Free Ration Categories.
The Generated DRTs are automatically analysed by the system and based on the location parameters; DRT gets assigned to a Fair Price Shop from where the DRT Holder will collect Ration.
DRT Completion Process,
Where system could not identify the Fair Price Shop(FPS) a provision is given in District Food and Supplies Controllers(DFSC) to assign DRT to a FPS.
DRT Delivery Process,
The generated DRTs then pushed to PPP and Unit Committee Portal which searches the Unit Committee for the DRT Family and a link gets generated in Unit Committees Logins against the family for downloading the DRT. Then UC can download Print and Handover the DRT to the beneficiary.
Citizens can get the DRT through Help Me Mobile App.
DFSC Logins are also provided the list of DRTs of their district. DFSC Office can also download and share the PDF of DRT to the beneficiary through WhatsApp.
DFSCs also to Print the DRTs and Handover the same to Local Committees for distribution.
More than 373222 Distress Ration Tokens are generated till 15.05.2020.