COVID19 ePass System and Surveillance of Citizens in District Kangra
Ajay Singh Chahal, Himachal Pradesh
ajay[dot]chahal[at]nic[dot]in
|
May 16, 2020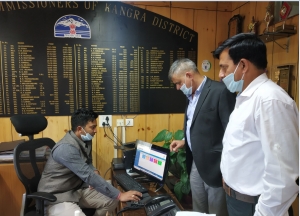 Sh. Rakesh Prajapati, IAS Deputy Commissioner, Kangra took the initiative to utilize Service Plus framework for configuring the Covid-19 ePass Surveillance System for citizens of Kangra District. The Service Plus Team at New Delhi, in coordination with Sh. Bhupinder Pathak, Scientist-F/DIO Kangra completed the task in a very short time and implemented the system having various features. The system has been appreciated in many national magazines and newspapers. The Administration is able to monitor the Covid19 suspects, users of ePass, their surveillance in the District. 
Two services have been made in District Kangra for issuance of ePass for those who have to move out from District and 2nd service was added later for those who have to Enter from Outside the State. This 2nd service is further extended for Surveillance of those who have come from other States.
The best use of this application is not only for issuance of ePass but availability of crucial data being captured for   further using it in Primary and Secondary contact tracing, surveillance  etc.
As and when someone is detected positive and having travel history, the Administration looks for the travel details, vehicle number in which travelled and the co-passengers. The Driver details, owner information, who else have travelled in that particular vehicle on other dates, resident of which Block, Panchayat etc. are also available. 
All these persons are then contacted by Administration and are then being tested for Covid-19 test. Hence, the collected data is immensely helping the District Administration.
The reason of Travel is also being captured along with Job Loss reason is being captured to work out how many people are coming back after job loss from big cities. This data will help Administration in making the rehabilitation policy for the workers or residents who have come back and can be helpful in State level economic activities.