e-Office in Jagatsinghpur district during lockdown for COVID-19
A. K. Hota, Odisha
ak[dot]hota[at]nic[dot]in
|
Apr 22, 2020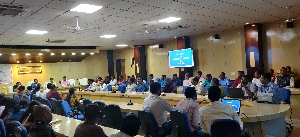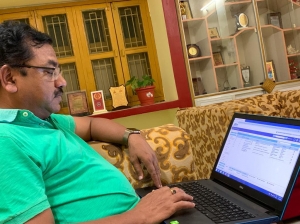 National Informatics Centre, Bhubaneswar has launched eOffice product (The online office automation application)  in Collectorate of Jagatsinghpur, Odisha on 31st January 2020 with an aim to support district administration inter, intra-government process and to provide a simplified, responsive, effective and transparent e-governance under the 5T initiative of Govt. of Odisha.
This has been inaugurated by Shri Sangram Keshari Mohapatra, D.M and Collector Jagatsinghpur in presence of Shri Bibhu Prasad Mishra, Sr. Technical Director, NIC Bhubaneswar and Shri Jyoti Prakash Behera, DIO Jagatsinghpur along with other dignitaries in the district administration.
Now, the entire district network comprising of more than 700 users in  29 sections under collectorate administration along with around 40 numbers of other offices including subdivision, Municipalities, DRDA, RTO, CDMO, Sub-registrars, Blocks, Tehsils etc. across the district have come into the folder of eOffice.
The recent spread of the covid-19 has become a concern for all worldwide. In order to break the epidemic chain and maintain social distance, whenever the state is witnessing lockdown situation and functioning with reducing work strength, eOffice in Jagatsinghpur has become a boon for the administration as the entire district is running with its full strength by way of working from home through eOffice. Amidst this ongoing lockdown, the authenticated user or official could access and work with important files/ documents/information using e-office from nearly any internet able device like desktop computer, laptop, tab, mobile phone etc. It is not only easy to use but is also need of the hour as there are no physical files involved thereby reducing the risk of transmitting the virus or any infection. Hence, eOffice helps to break the chain of COVID-19 as well allowing officials to stay safe at home while working seamlessly. Since, inception the creation and movement of electronic files/receipts are as under:
Indicative Statistics of Working of Files through eOffice during COVID-19
| | | | |
| --- | --- | --- | --- |
| No. Files Created | No. Receipts created | No. Files moved | No. Receipts moved |
| 2676 | 7918 | 18841 | 11393 |
The functioning of district administration through eOffice during COVID-19 has been greatly appreciated by Hon'ble Chief Secretary, Govt. Of Odisha.