Online Transit e-Pass for COVID19 management implemented for Two Police Districts of Ganjam, Odisha
A. K. Hota, Odisha
ak[dot]hota[at]nic[dot]in
|
Apr 22, 2020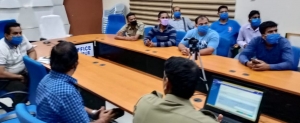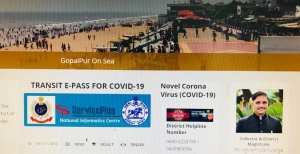 Ganjam became the first District in Odisha to implement the Online Transit e-Pass system for COVID19 management   for two police districts i.e Ganjam and Berhamour of Ganjam revenue district successfully.  The application has been developed under Service Plus platform of NIC and implemented in a very short span of time.
The Service Plus team  of NIC, State Unit, Odisha,  Bhubaneswar comprising Sri Bibhu Prasad Mishra, STD,  Sri Jagannath Kar, TD  and  Sri Rabindra Moharana, PSA have developed the application under the able guidance by Smt. Pratibha Singh,DDG-cum- SIO  and  Dr. A. K. Hota, DDG-cum- ASIO.
A detailed presentation was made to both the user departments i.e. S.P. Berhampur and S.P. Ganjam. The suggestions received from users were incorporated in the application. The URL link for e-Transit pass has been provided in the district web site for easy access of the citizens. The advertisement boards kept at different places including Collectorate, Police Stations etc. have the QR Code by scanning which citizens can directly access the URL.
The data entry form for application by citizen to avail transit pass for medical and emergency grounds is kept open.  Citizen doesn't need any login credentials.  Once the citizen submits the form, he will get an acknowledgement in both mobile and e-mail. 
DSP will verify the form and can accept or reject at his level. Once accepted it would be forwarded to SP for approval. 
Finally S.P. can approve or reject the form.  If S.P. approves, then the e-Pass will be generated by the system and the e-Pass will be sent to the e-Mail of the applicant and he can also download the same through the link provided.  
It is very much helpful to the citizen as one can apply from home and get the e-Pass staying at home. One is not required to visit S.P. Office or any office for the purpose. At this crucial juncture it will deliver citizen service maintaining social distancing.
The application has been successfully implemented in both the police districts coordinated by NIC, Ganjam team comprising Sri Subash Chandra Misra, DIO, Sri Siddharth Kumar Mandal, ADIO and Sri Ranajeet Kumar Das, Scientist-C, NIC-RDC Office, Berhampur. 
The effort of NIC has been well appreciated by the Collector & DM, Ganjam and S.Ps of Ganjam district.