Uttarakhand Cabinet goes high-tech with launch of eMantrimandal portal by Honorable Chief Minister
Arvind Dadhichi, Uttaranchal
ak[dot]dadhichi[at]nic[dot]in
|
Jan 31, 2020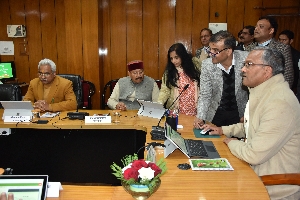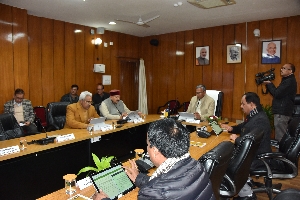 e-Mantrimandal (e-Cabinet) portal was inaugurated by Sri Trivendra Singh Rawat Honorable Chief Minister of Uttarakhand in the presence of his cabinet collogues, during first paperless cabinet meeting of Uttarakhand state,  held on 08th January 2020 using e-Mantrimandal Software at Uttarakhand Civil Secretariat Dehradun.
As part of the workflow for this first ever such meeting of the state, concerned departments submitted their agenda items online to Cabinet Secretariat (Gopan Vibhag), which as part of the work flow was put up online before the cabinet for consideration, deliberations and decision. Each of the agenda point as recorded online concluded and disposed with cabinet decision as part of complete cycle.
During cabinet meeting, agenda items with noting were displayed on Laptops of Cabinet ministers. As soon as decision on an agenda item were being completed by Cabinet, the system was making the status live to secretaries seated in adjacent waiting lounge.  And accordingly they were able to know expected time of their call through the progress of the meeting agenda points being shown on large screens.
As the system has the features, all stakeholders including Her Excellency the Governor, Honorable Chief Minister , Cabinet and Ministers of State, Secretaries & Section officers  were getting information through SMS, eMail and portal from time to time. The whole system eliminated the earlier paper based system.
The system uses single sign on through NIC Parichay integration in the portal software.
Before the launch and successful implementation various rounds of trainings were organized for all stake holders including honourable Chief Minister, Ministers and Secretaries.
During the event the e-Mantrimandal project team of NIC, Uttarakhand Mr Arun Sharma (Scientist-D), Mr Rohit Chandra(Scientist-C), Ms Pritie (Scientist-B)  and Smt Rachna Shah(Scientist-B) were present.