Honorable Minister, Law & Justice, Communications and E&IT inaugurates Centre of Excellence in Blockchain
Shashi Kant Pandey, Delhi
sk[dot]pandey[at]nic[dot]in
|
Jan 20, 2020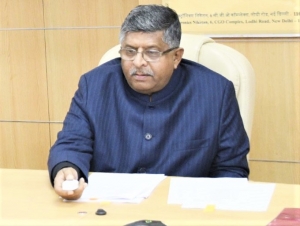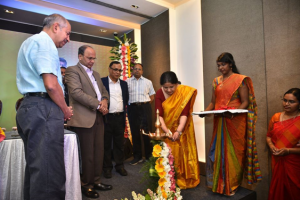 Shri Ravi Shankar Prasad, Honorable Minister of Law & Justice, Communications and Electronics & Information Technology digitally inaugurated the Centre of Excellence (CoE) in Blockchain Technology, established by NIC in Bengaluru, Karnataka, on 18th January 2020, through video conferencing from New Delhi. The inaugural event in Bengaluru witnessed the presence of Shri T.M. Vijay Bhaskar, Chief Secretary, Karnataka, Dr. Neeta Verma, DG, NIC and other senior officers from Karnataka government, Ministry of Electronics & Information Technology, NIC and NICSI.
The CoE has developed Blockchain-based Proof of Concepts (PoCs) for select government use cases to understand potential benefits provided by this emerging technology. New and previously unforeseen applications of Blockchain in the government are expected to enhance transparency, traceability and trust in e-governance systems.
Shri Ravi Shankar Prasad, in his speech, commended NIC as the "backbone of digital governance in India", and expressed he was particularly optimistic about applications of blockchain technology in primary education. The Honorable Minister appealed to NIC to explore the potential of the new technology in improving the quality of government schools across the country and also added that NIC can become a big patron of the startup movement and recommended that the State government must open its doors for induction of startups under defined norms & conditions to maintain transparency.
Highlighting the significance of the Centre, Dr. Neeta Verma said that the CoE shall work closely with the Government of Karnataka to build niche applications of Blockchain technologies, which can be rolled out across India.
On the occasion, a White Paper on "Blockchain for Government" was also released by the Honorable Minister.
Blockchain, a new and niche technology, is being implemented extensively in sectors such as health, finance and agriculture. The new CoE will facilitate various government departments in building PoCs for use of Blockchain technology in different dimensions of governance, leading to large-scale deployment of such applications. With NIC providing a robust and agile infrastructure, the CoE shall also provide Blockchain as a Service (BaaS) for efficient hosting of Blockchain network.