Honorable Minister, Law & Justice, Communications and E&IT inaugurates Software Quality Lab at NIC HQ
Informatics News Desk, NIC-HQ
newsdesk[dot]info[at]nic[dot]in
|
Jan 14, 2020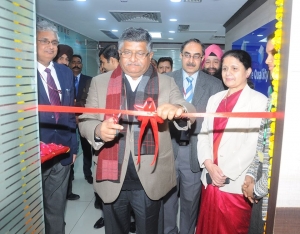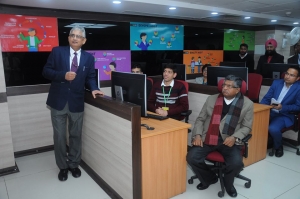 Shri Ravi Shankar Prasad, Honorable  Minister of Law & Justice, Communications and Electronics & Information Technology inaugurated the Software Quality Lab at NIC Headquarters in New Delhi on 13th January 2020, in the presence of Shri Ajay Sawhney, IAS, Secretary, Ministry of Electronics & Information Technology and Dr. Neeta Verma, DG, NIC. Senior NIC officers were also present at the inauguration.
Highlighting the importance of the Lab, Shri Ravi Shankar Prasad, in his speech, advised to ensure that the Software Quality initiative reaches the District Informatics Officers (DIOs) of NIC who are playing an instrumental role in the implementation of e-Governance applications at the grassroots level.
Shri Ajay Sawhney also underscored tapping the potential of the Lab and added that major software companies also have such Labs. Dr. Neeta Verma explained the significance of Software Quality in design and delivery of e-Governance applications.
On the occasion, a presentation describing the facilities, tools and technologies available at the Software Quality Lab was made by Shri Pawan Joshi, DDG and HoG (Software Quality Group).
It is noteworthy that the Software Quality Lab has been designed to cater eight thematic areas i.e., DevOps & Agile, Development Lifecycle, Development & Testing, Quality Application, Quality Audit, Software Design & Architecture, Software Project Management, and UI & UX Design.