Inauguration of redesigned website of MSME Development Institute, Cuttack under Ministry of MSME, Government of India http://msmedicuttack.gov.in
A. K. Hota, Odisha
ak[dot]hota[at]nic[dot]in
|
Dec 9, 2019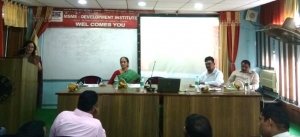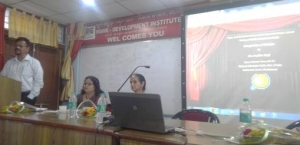 Micro, Small & Medium Enterprises Development Institute (MSME-DI), Cuttack, the field office of Development Commissioner, Micro, Small & Medium Enterprises under the Ministry of Micro, Small & Medium Enterprises(MSME) is the nodal office for promotion of MSMEs in the State of Odisha having its two branch offices located at Rourkela & Rayagada. This Institute and its Branches are attached with Common Facility Workshops which render requisite services to the MSMEs and also impart Skill Development Training to MSME Workers to sharpen their skills.  The MSME Development Act, 2006 has given a new orientation / horizon to this organization.
 The redesigned website was inaugurated by Smt. Pratibha Singh, DDG & SIO, Odisha in the presence of Dr. Pragyansmita Sahoo, Deputy Director and Shri Diwakar, Asst. Director of MSME-DI, at IMT Hall, MSME DI, Cuttack. Shri S. A. Khan, Scientist-F & ASIO and Shri Md. M Khan, Scientist –E, from NIC, Odisha also graced the occasion.
Addressing on the Occasion Dr. P. Sahoo, Deputy Director highlighted the functioning of MSME-DI. She informed that Enterprises have been classified broadly into (1) Manufacturing / production of goods, (2) Enterprises engaged in providing / rendering of services. 
The primary objective of MSME-DI is to promote and develop Micro, Small and Medium Enterprises (MSME) in the State of Odisha by rendering various services like Techno-economic and Managerial Consultancy  in the field of Chemical, Food processing, Mechanical, Metallurgy, Leather, Electrical and Electronics, Hosiery, Glass and Ceramics, Industrial Management, Economics and Statistics, ISO consultancy etc. to the existing as well as prospective entrepreneurs by way of close liasioning with State Government, Promotional agencies and Financial Institutions.
The MSME-DI is also actively engaged in the Vendor development process and ancillary development and in this respect this office organizes Industrial Exhibitions and Vendor Development Programmes with Mother Plants /PSUs / Large Enterprises. 
Participating in the discussion Shri S. A. Khan, STD & ASIO highlighted the salient features of the website.