Digital Governance Tech Summit held in New Delhi emphasizes digital transformation through e-Governance
Shashi Kant Pandey, Delhi
sk[dot]pandey[at]nic[dot]in
|
Sep 3, 2019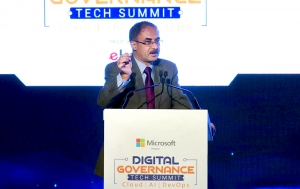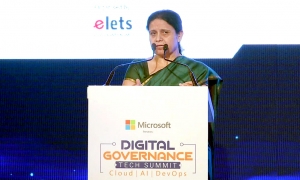 A Digital Governance Tech Summit was organized by Microsoft India, in association with Elets Technomedia, at Hotel Taj Palace, New Delhi on 27th August 2019. Highlighting the Digital India vision of the Indian Government, the event was oriented towards discovering the role of modern technologies such as Artificial Intelligence, Cloud Computing and Internet of Things in the governance mechanism. Notable personalities from the Government sector as well from Microsoft India and Asia were present on the occasion.
In a Fireside Chat with Shri Anant Maheshwari, President, Microsoft India, Shri Amitabh Kant, CEO, NITI Aayog, talked about the implementation of Digital India vision of the Government across various sectors and presented views on harnessing the potential of advanced technologies for growth and development. Shri Anant Maheshwari also presented his views and said, " AI and the cloud can enable path-breaking innovation and drive the next phase of India's growth. Continuous focus on learning and improving skillsets for all are a must to make this a reality."
Shri Ajay Sawhney, Secretary, Ministry of Electronics & Information Technology, in his inaugural address, said, "We have been consumers of software products. It is time for India to move towards being a software product nation."
Dr. Neeta Verma, Director General, National Informatics Centre, participated in one of the panel discussions on "Technical Upskilling for a New Era of Possibilities in Government" in which she underscored technological advancements over the past three decades, and how the Cloud is enabling the vision of 'one nation, one platform'.
On the occasion, the Digital Governance Tech Tour was also launched by Microsoft India to deliver critical AI and intelligent cloud computing skills to the Government officials in charge of IT across the country. Inaugurated by Shri Amitabh Kant and Shri Ajay Prakash Sawhney, this national program is comprised of a series of physical and virtual workshops for training of 5,000 personnel over a period of 12 months.