Online Land Revenue Payment application launched as First Project under 5Ts Mantra in Odisha
A. K. Hota, Odisha
ak[dot]hota[at]nic[dot]in
|
Aug 21, 2019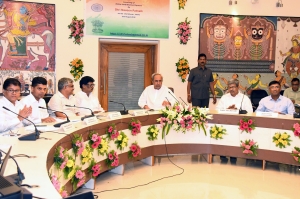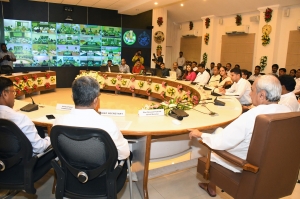 Shri Naveen Patnaik, Honorable Chief Minister, Odisha, launched the Online Land Revenue Payment application (https://odishalandrevenue.nic.in) at Lok Seva Bhawan, Bhubaneswar on 15th August 2019 and congratulated NIC and Revenue Department for this achievement. Besides Ministers, other dignitaries including Shri Aditya Prasad Padhi, IAS, Chief Secretary, Shri Asit Kumar Tripathy, IAS, Development Commissioner, Shri Bijay Kumar Sharma, IPS, DG, Police, all Department Secretaries, Directors and other senior officers were present on the occasion.
The Government of Odisha has devised 5Ts Mantra for providing good governance to the public. The fourth Saturday of every month has been fixed for monitoring 5Ts activities of every department by the government. Among other departments, the Revenue & Disaster Management has been chosen as the primary department for implementing 5Ts strategy. In fact, Revenue Administration is probably the oldest form of organized administration, and it was a major contributor to the government revenue. Over the time, the amount of contribution has diminished, but, the emotional attachment of citizens to land is reflected in their regular payment of land revenue. However, the present practice of collection through Revenue Inspectors has been both time-consuming and difficult for account maintenance.
The citizen-friendly e-Governance application has been developed by NIC apropos to the requirement of the Government of Odisha. The database of tenant ledger holds about 1.33 crore records for facilitating service to citizens to pay their land revenue online from anywhere.
The efforts of NIC were well appreciated by the dignitaries and everyone expressed satisfaction for achieving the 5Ts milestone.
Shri Sudam Marndi, Honorable Minister, Revenue & DM Department, praised the efforts of NIC. Shri Nikunja B. Dhal, IAS, Principal Secretary, Revenue & DM Department, thanked the SIO and NIC Team of Odisha in his address. He apprised the Honorable Chief Minister and the dignitaries of the efforts made by NIC.
Soon after the application was launched, farmers and other citizens made online revenue payment and took their receipts. At the same time, other citizens made their transactions and generated rent receipts in all the 30 district headquarters too. The districts were connected with the Chief Minister's Office through video conferencing. The beneficiaries interacted with the Honorable CM and expressed their happiness for this long-awaited facility.
The NIC team, led by Dr. Pabitrananda Patnaik, Sr. Technical Director, under the guidance of Smt. Pratibha Singh, DDG & SIO, has completed the assignment in record time. The praiseworthy contribution and timely execution of work by Shri Jagannath Prasad Bakshi, PSA, Shri Jageswar Sahu, Sr. Technical Director and Sri Bibekananda Das, Sr. Technical Director made the complex, voluminous and sensitive work easy and implementable.