Inauguration of Core Banking Solution for Kendrapara Credit Co-Operative Society(KCCS) LTD. Odisha
A. K. Hota, Odisha
ak[dot]hota[at]nic[dot]in
|
Mar 13, 2019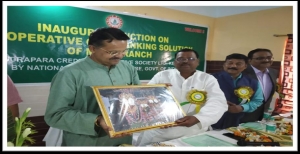 The "Kendrapara Credit Co-Operative Society LTD" Core Banking Solution developed by NIC(HQ) and  NIC(Odisha) was inaugurated by Hon'ble M.P. Cuttack Sj. Bhartuhari Mahatab, in the presence of Sri Pramod Kumar Sahu, President KCCS Ltd., Sri Ashok Kumar Mohanty, STD, NIC Odisha, Sri Sanjay Kumar Sinha, STD, NIC(HQ), Dr. K.C. Panda, TD, NIC Odisha & Sri Laxmidhar Subudhi, ARCS, Kendrapara on 02/03/19 in  presence of the Staffs of KCCS ,  members of KCCS and Print & Electronic Media.
During the inauguration Hon'ble M.P Sj. Bhartuhari Mahatab praised the simple and user-friendly Core Banking Software (CBS) for KCCS. He added that this is a unique Core Banking Solution of NIC, and  as  a Govt. of India organization, is being provided to the Society.
The effort made by NIC for Computerizing a Society with Core Banking Solution was highly appreciated by the Chief Guest Sj. Bhartuhari Mahatab during his Inauguration speech.
During inauguration, Sri Ashok Kumar Mohanty, STD, NIC Odisha explained the journey of KCCS Kendrapara to CBS. He elaborated the following features of CBS software.
As the CBS software is a core banking software, Any Customer / member can carry any type of transactions in any branches of KCCS.
This is a full proof software with all kind of security.
It is as per all the guidelines of RBI and NABARD.
This is a first step of banking solution to cooperative sector in the "Digital India Movement".
Sri Ashok Kumar Mohanty, STD, NIC was highly thankful to Smt. Neeta Verma, DG NIC, Sri I.P.S Sethi , DDG &Co-operative head and  Smt. Pratibha Singh, DDG & SIO, Odisha for their full support towards the development CBS solution to KCCS  ltd. He was also thankful to Sri Sanjay Ku. Sinha and his team for continuous and painful effort for the success of the CBS for KCCS .Finally Sri Mohanty, STD, NIC Odisha thanked Sri Pramod Kr. Sahu, President KCCS Ltd., who had taken bold step to give an opportunity to NIC to develop the CBS for KCCS Ltd.