Visitors Management System (VMS) inaugurated at District Jail Deoghar Jharkhand
informatics, NIC-HQ
editor[dot]info[at]nic[dot]in
|
Feb 2, 2009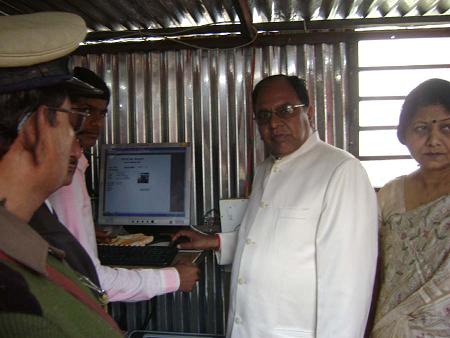 ""Visitors Management System", a module of the software - "Prisoners Management System" (PMS) has proved to be effective in jails from security point of view and in implementing the various provisions of the jail manual with respect of visitors meeting the under trials. The VMS module issues photograph based identity cards to the visitors for the purpose and in the process captures their details in the computerized system for future reference and investigations, if so required. It will deter unauthorized visitors and dissuade sneaking of prohibited items into the jail.
The above, views were expressed by Hon'ble District Judge, Sri Narendra Kumar Srivastava, after inaugurating the computer center, constructed for implementing the VMS module, on the republic day at Deoghar jail premises. The Jail Superintendent Dr. Smt. Rupam Prasad among others was also present on the occasion.
The PMS software has been successfully implemented at the district jail, which has more than five hundred prisoners at present. The PMS / VMS Project is being implemented by NIC Jharkhand, across various jails in the state in coordination with the Department of Home (Jails), Govt. of Jharkhand."