State level Knowledge Sharing workshop For DIO/ ADIOs, NIC, Odisha during 10th -11th January 2019
A. K. Hota, Odisha
ak[dot]hota[at]nic[dot]in
|
Jan 16, 2019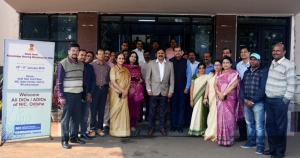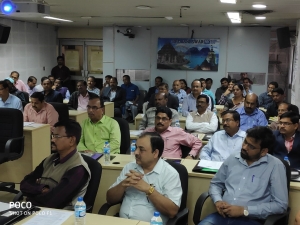 The state level DIOs meet was organized at NIC State Center, Bhubaneswar, Odisha, during 10th and 11th January 2019 in presence of Smt. Nandita Choudhury, DDG & State Coordinator, Odisha.
The inaugural session was chaired by Smt. Pratibha Singh, DDG & SIO. Shri C. J. Venugopal, IAS , Principal Secretary to Govt., Electronics & IT Department, and Shri R. N. Palai, ITS,  Spl. Secretary to Govt., E&IT Department joined as Guest of Honour.
Welcoming the participants Smt. Pratibha Singh, DDG & SIO informed that it is the effort of DIOs and ADIOs for which Odisha became the first state among large states of India to launch all district portals under SwaaS platform by the target date of 28th May 2018. Within one month of time DIOs could develop bi-lingual, accessible, responsive district portals and launch it. All credit goes to the tireless effort of DIOs for updating content, getting odia translation done and hosting them.
In her Keynote address Smt. Nandita Choudhury, DDG & State Coordinator told about steps being taken up towards strengthening NIC in various aspects - at policy level, infrastructure level and skill development level. She highlighted about the District Infrastructure upgradation, GudApps, VidyaKosh, Webinar, Executive Briefings, Digital-NIC etc.
Delivering address Shri R. N. Palai, ITS, Spl. Secretary to Govt. E&IT Department said that DIOs are the real backbone of e-Governance initiatives of any state as they are working at the grass-root level.  They are presently working day and night for  Election work. He informed that the e-District project has been entrusted now to NIC which is going to be launched shortly. NIC has also submitted the Enterprises Architecture proposal to Govt. of Odisha.
In his inaugural address Shri C. J. Venugopal, IAS, Principal Secretary to Govt., appreciated the steps of  NIC in coming up with Centers of Excellences in the fields of Security, Data Analytics and Research & Development. He shared his experiences of visiting NIC Hqrs and NIC-CERT. He informed that CERT-O has started functioning and soon it would be institutionalized.  
Principal Secretary interacted with DIOs and tried to know the type of innovations they are involved in and also enquired about administrative challenges being faced by them. He was happy to know that one DIO of Odisha had received the Gold Award for Data Visualisation under the Innovation challenge during the VIVID – 2018, another DIO is going to receive Digital India Award -2019 and the election randmosiation software being used by Govt. of Odisha is primary developed by DIOs only.
During the two days long programme DIOs from four districts, presented on emerging technologies. DIA Jagatsinghpur presented on Blockchain technology, DIA Malkangiri presented on IoT, ADIO Rayagada presented on Web Analytics and ADIO Koraput presented on Artificial Intelligence, which were well appreciated.
Sharing unique initiatives at district level DIO Sambalpur presented on Mobile Apps developed for Mother & Child health tracking system, DIO Ganjam presented on Tehasil Support Service system.
On 11th January, Dr. Neeta Verma, DG, NIC, joined the workshop over VC. SIO briefed her about the proceedings of first day. Then DG interacted with participants. Appreciating the GIS based initiatives taken up in Koraput, she wished that each district should plan for GIS based solutions with support from State and Central GIS division. She appreciated the Mobile Apps developed at Sambalpur district for Mother and Child health tracking system which has stopped the maternal deaths. DIOs / ADIOs who could not join physically the workshop due to various reasons joined over VC and interacted with DG.
 There were two presentations by Internal speakers from the State unit i.e. Introduction to MEAN Stack and Enterprises Architecture.
Two External speakers Prof A. Samal, Head, Computer Science Dept., Trident Academy,  delivered talk on Artificial Intelligence and Sri Somen Das, Lead, OWSAP Odisha Chapter, delivered  talk on Cyber Security
 Group Heads of various projects including e-Hospital, e-Office, DM-Dashboard, LRMS, Service Plus, e-Granthalay, Election etc. interacted with DIOs.
A session was dedicated to discuss about various challenges being faced at district level with related to infrastructure, networking, AMC, Admin etc.
In the concluding session DDG & State Coordinator handed over token of appreciation to DIOs who presented on Emerging Technology and District initiatives.