Haryana:- Direct Benefit Transfer Regional Level Workshop at Chandigarh on September 11, 2018
Deepak Sawant, Haryana
sawant[dot]deepak[at]nic[dot]in
|
Sep 24, 2018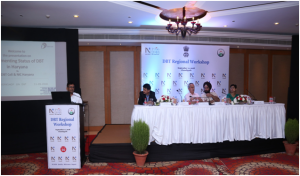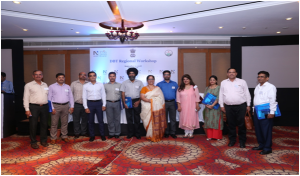 One day regional workshop on DBT was organised by DBT Mission, Cabinet Secretariat,  Delhi and NCAER (National Council of Applied Economics Research) on 11th September 2018 at Chandigarh. Representative of all northern states Jammu & Kashmir, Himachal Pradesh, Haryana, Punjab, Uttarakhand, Delhi, Rajasthan and UT Chandigarh participated and presented status of DBT implementation in their states in line with State DBT portal and Bharat DBT portal.  The foremost objective of the workshop was to review the DBT implementation in the states and knowledge sharing of effective usage of Aadhaar.
The inaugural session was addressed by Ms  Indira Murthy, IAS, Joint Secretary, DBT Mission, Cabinet Secretariat, Government of India followed by Sh. Sunil Sharan, Secretary-cum-Advisor, Finance, Haryana and Dr. Rajesh Chadha, Senior Research Counsellor, NCAER. During this session, Mr. Soumitra Mandal, Director, DBT Mission, Cabinet Secretariat, Government of India, introduced the key enablers of DBT within the present framework of DBT. He also shared about  recent developments and progress/ performance of participating states.
The Post Lunch session was dedicated to States where participating states presented their DBT implementation status, progress and prospects. Haryana was the first participating state and  Dr. Susheel Kumar, Senior Technical Director, NIC Haryana presented the Haryana DBT status and also shared the best practices and challenges being faced in maintaining and updation of beneficiaries data and response files received from banking agencies.
During presentation, he talked about data cleaning and de-duplication status, live status of Haryana DBT portal, methodology used during the process, capacity building and progress review, change management requirement, benefits, challenges and roadmap. He also explained how the RGI death data has been integrated with social sector pension schemes and flagged the death as it was not reported by banks or field officers.
The DBT Mission Delhi team appreciated the efforts made by NIC Haryana.