J andK : SMS Facility for Passport & Service verification launched by ADGP, CID , J&K
Jit Raj, Jammu and Kashmir
jit[dot]raj[at]nic[dot]in
|
May 29, 2018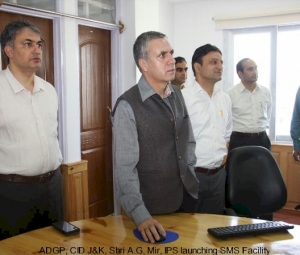 SMS facility for Passport and Service Verification for Criminal Investigation Department, Jammu and Kashmir Police was inaugurated by Sh. A.G. Mir, IPS, Additional Director General of Police(ADGP), CID, J&K on 26/05/2018.
Verification wing of CID Headquarters caters to the verification of antecedents of Passport applicants, LOC-POK visitors, Government/Semi-Government/PSU's newly recruited employees, persons who are opening new NGO/Trust/School etc. but the wing was devoid of a system wherein the applicants could ascertain the day to day status of their verification process.
To facilitate the general public across the State, CID Headquarters J&K requested NIC, J&K for development of application software that will enable all applicants to track the status of their verification through SMS facility. Accordingly, NIC designed and developed an application Software for CID-VMIS (Verification Management and Information System), wherein the applicants get updates about their verification through SMS.The main modules of the application are:-
 - SMS Service for Passport Verification.
  - SMS Service for Service Verification.
  - SMS Service for Allied Verification.
   - Group SMS [Within CID Hqrs].
   - Individual SMS [Within CID Hqrs].
CID Headquarters carried out 1,36,289 Passport Verification, 18,057 Service Verifications, 302 Trust/NGO/School verifications having  1,811 applicants for the years 2017 but there was no such system in place  to know the status of verifications by the applicants.
ADGP,  CID, J&K appreciated the efforts put in by  NIC Project Team led by Shri Navneet Kukreja, DDG & SIO J&K,  comprising of Jit Raj, STD & ASIO(D),  Suresh Kumar, TD, Sudhir Sharma, TD and Parvinder Singh Scientist for providing SMS based eGovernance solution to the department.