Workshop on Enterprise Architecture (EA) in Agriculture organised at Bhubaneswar, Odisha
A. K. Hota, Odisha
ak[dot]hota[at]nic[dot]in
|
May 15, 2018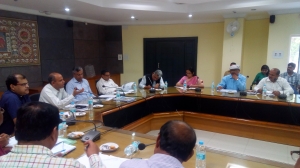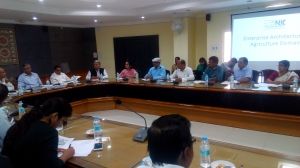 Department of Agriculture and Farmers' Empowerment, Govt. of Odisha organized a workshop on development of Enterprise Architecture in Agriculture sector on 5th May, 2018. Senior officials from Agriculture & Farmer's Empowerment department and its associated organisations along with officers from NIC State Centre participated in the workshop.
Inaugurating the workshop Dr. Saurabh Garg, Principal Secretary, Agriculture and Farmers' Empowerment department informed that, "Agriculture in Odisha is the mainstay of majority of the populace and thus, holds the key to socio-economic development of the State. Agriculture and farmers' empowerment department, Govt. of Odisha is one of the pioneers in implementation of ICT for e-Governance, DBT and citizen centric services. Adopting a structured approach, making use of IndEA in developing the enterprise architecture, under the guidance of NIC, it would certainly offer ONE Government experience to the farmers, citizens, agro-businesses and government."
Addressing on the occasion Shri A. K. K. Meena, Principal Secretary to Govt., Electronics & IT department, a member of the National Enterprise Architecture (EA) Working Group (WG), informed that the Working Group's singular mission was to develop a framework for enterprise architecture applicable to central, state and local governments. NIC is the designated nodal agency for enterprise architecture in the country.
Shri Chandrasekhar Kumar, IAS, Principal Secretary, Revenue & Disaster Management Department participating in the discussion highlighted the need of capacity building in the success of e-governance applications.
Shri Deepak Chandra Misra, Dy. Director General, NIC, graced the occasion, who had made a beginning of EA in India through 'Panchayat Enterprise Architecture Framework' even before IndEA came up. Shri Misra, the first initiator of EA inside the government sector in India, was also one of the active member of the National working Group. Addressing on the occasion Shri Misra informed that, "IndEA is a set of building blocks that State Governments can use to describe their future state of e-Governance processes and systems. IndEA is a collection of architecture reference models. The purpose of the reference models is to increase standards adoption, speed up service design and delivery, and advance towards the target state architecture."
Ms. Seemantinee Sengupta, Senior Technical Director & Head of Enterprise Architecture Resource Division, NIC, New Delhi, presented step-by-step methodology to develop enterprise architecture in Agriculture.
Smt. Pratibha Singh, State Informatics Officer, NIC Odisha, interacting in the discussion wished that the deliberations and discussions would guide and initiate the process to develop EA in Agriculture sector, which would certainly be a mile stone for Govt. of Odisha. She expressed her gratitude to all senior officers participating in the workshop and showing their interest and taking the initiative ahead.
The programme was successfully coordinated by Shri Bibhu Prasad Mishra, Sr. Technical Director and Smt. Sarita Sahoo, Technical Director.