State Level workshop on eDistrict project implementation using ServicePlus framework at Odisha
A. K. Hota, Odisha
ak[dot]hota[at]nic[dot]in
|
Apr 20, 2018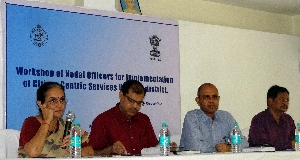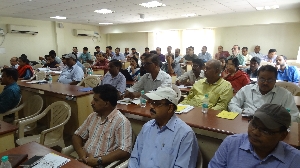 Department of Electronics & Information Technology (E&IT), Government of Odisha organised one day State Level workshop on eDistrict project implementation using ServicePlus framework on 6th April, 2018.  The nodal officials from all the departments of Govt. of Odisha have attended it.
In his introductory address Shri R. N. Palai, ITS, Special Secretary to Govt., E&IT Department, informed that Odisha Right to Public Services Act, 2012 in Odisha is an exemplary initiative by the State Government to bring transparency and accountability  in public service delivery. The law enables the citizens to demand public services as a right and also includes a provision for penal action against officials failing to provide the services within the stipulated time.
Shri Ashok K. K. Meena, IAS, Principal Secretary, E&IT inaugurated the workshop. He directed all the participants to identify the services in each department notified under Odisha Right to Public Service Act and make the services available online to the citizen using ServicePlus framework.
Ms. Pratibha Singh, Sr.TD and SIO, NIC Odisha addressing on the occasion mentioned that so far two services have been delivered through ServicePlus and three more services are going to be launched soon. The work on that aspect is going on.
Shri Bibhu Prasad Mishra, Sr. TD, NIC Odisha gave a presentation on the features of ServicePlus. Shri Adesh Chand Gupta, TD, NIC, New Delhi explained the Service Definer Guide (SDG) and discussed on detailed procedure on how to fill it. 
The programme was concluded with vote of thanks to all participants.